A custom pool provides homeowners with a chance to build the pool of their dreams. From water features and fire pits to built-in benches and tanning ledges, there are many design features to consider for custom pools. Homeowners can choose one or more design features with the help of experienced and knowledgeable custom pool builders. 
Our 8 Favorite Features to Add to Custom Pool Builds
Essig Pools offers the expertise needed to ensure that homeowners end up with a pool or spa that surpasses their expectations. The following are some of the top design features to consider for a customized pool. 
Spa Additions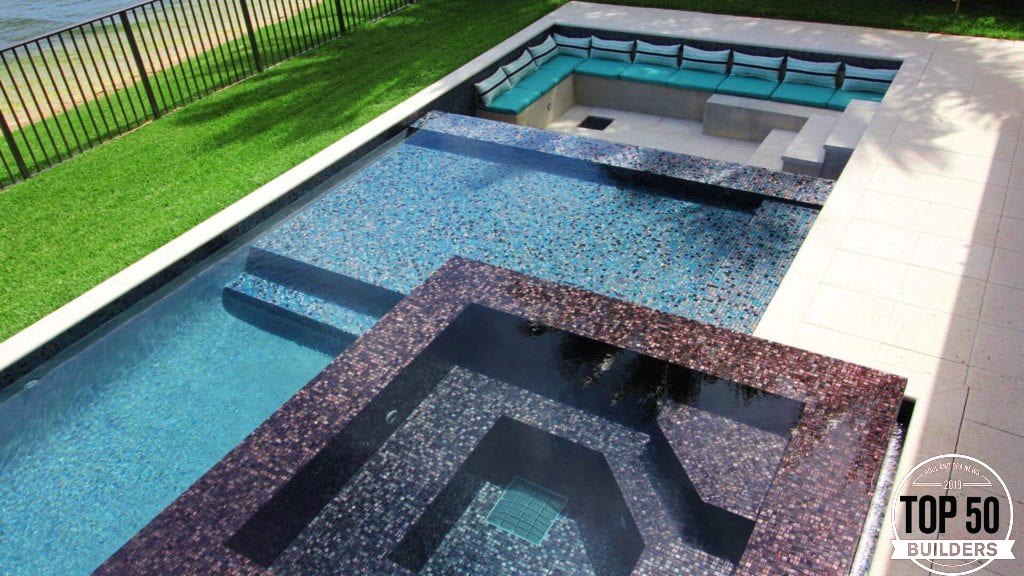 An inground spa offers a great way to relax after doing laps around the pool or splashing around. Homeowners can have a spa added to their custom pool rather than having a spa built separately in their yard. Spa additions are available in different styles, sizes, and shapes, ranging from a simple, round spa with streamlined edges to a decorative spa that's slightly elevated and surrounded by rock features.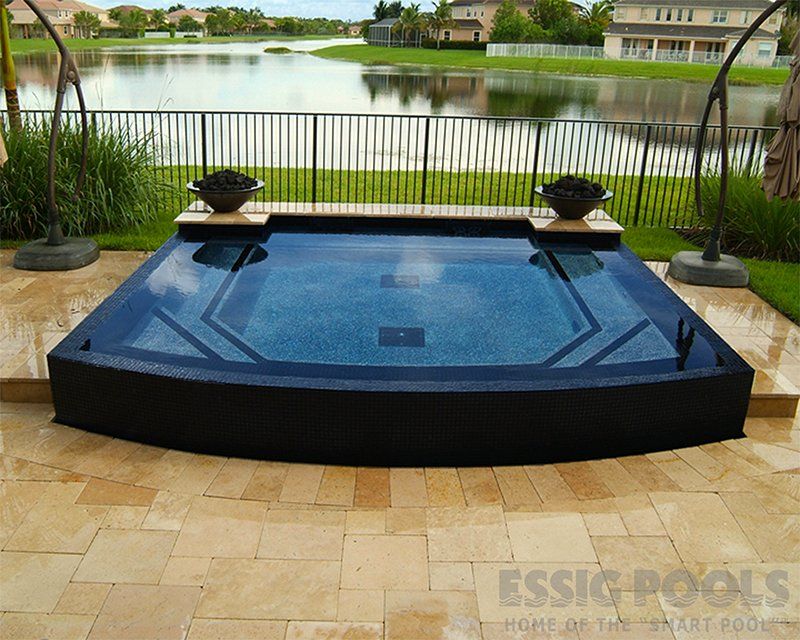 The pool builders at Essig Pools can design and build the ideal spa for custom pools. These customized spas can have lighting added for night use or include water features for aesthetic appeal. 
Water Features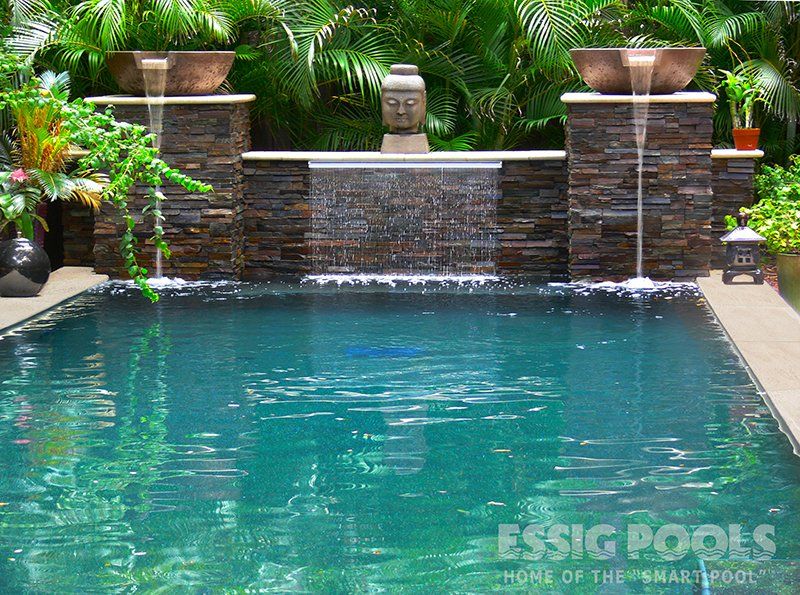 Water features can give custom pools an enhanced appearance while also creating a soothing atmosphere. Homeowners can choose to have water flowing gently out of large decorative basins for an elegant look or have waterfalls installed with rock features for a more rustic look.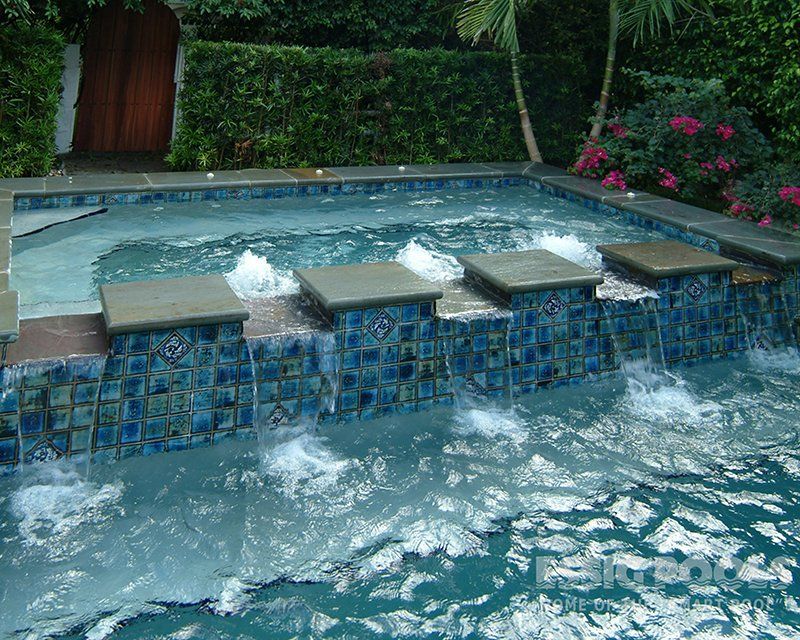 Custom pools can have multiple, smaller water features built along the edges of custom pools or at certain points. For a more dramatic effect, custom pools can have a large water feature installed in the center or at one end of the pool, such as a tall water fountain or a waterfall flowing from an elevated space. Essig Pools offers an impressive range of water feature pool designs to consider, depending on the visual effects homeowners want to create.  
Rock Features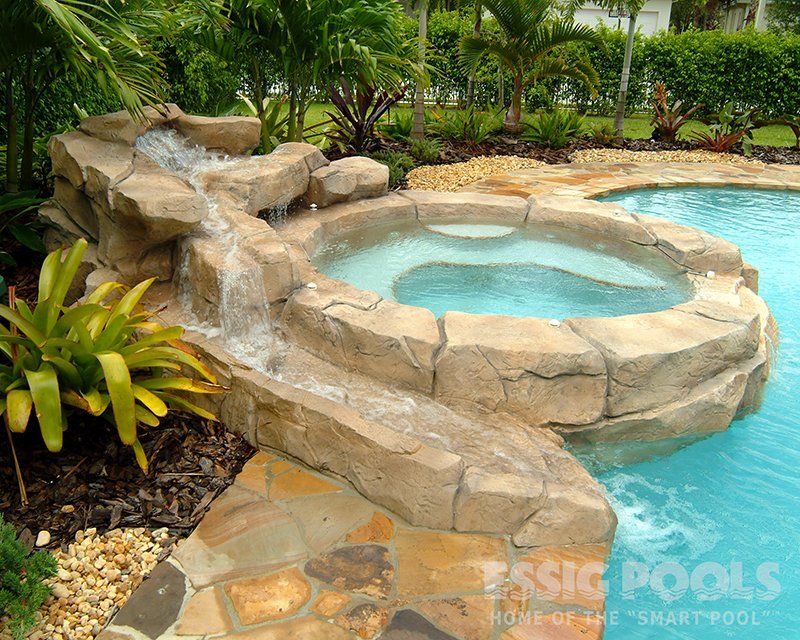 Rock features offer a good way to achieve a more natural look for a custom pool. With the right rock features, homeowners can create an outdoor oasis that resembles the great outdoors.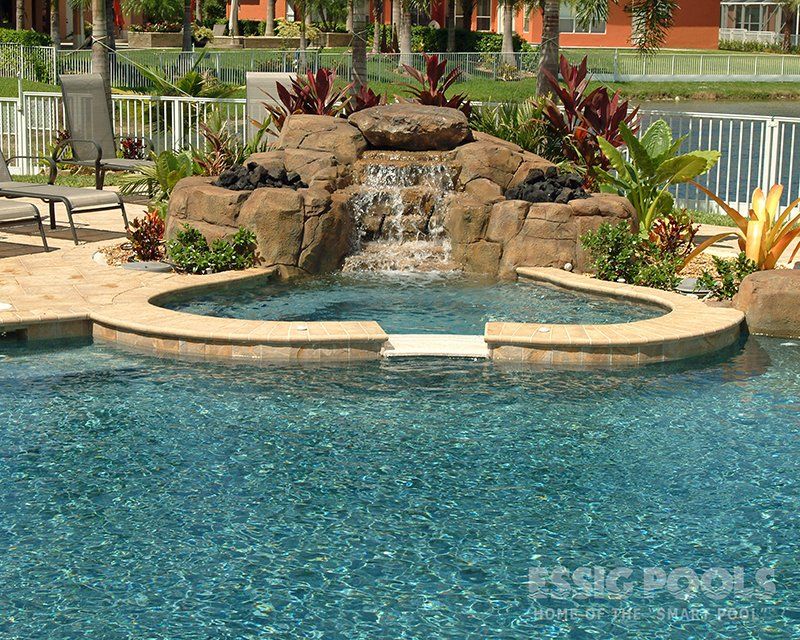 Rock features can also be used for a more upscale effect, such as when smooth, colorful stones are used to surround spas or other pool areas. Essig Pools has several rock feature designs to consider for custom pools.  
Swim-Outs, Benches, and Tanning Ledges

Having a shallower area to go provides homeowners with a place to relax before getting out of the pool or a place to ease into the deeper areas. Benches offer built-in seating, while swim-outs offer different levels of shallow water. Tanning ledges are more elaborate and can include space for pool furniture or a play area for kids. The experts at Essig Pools have many pool designs to choose from for those who want to add one or more of these features.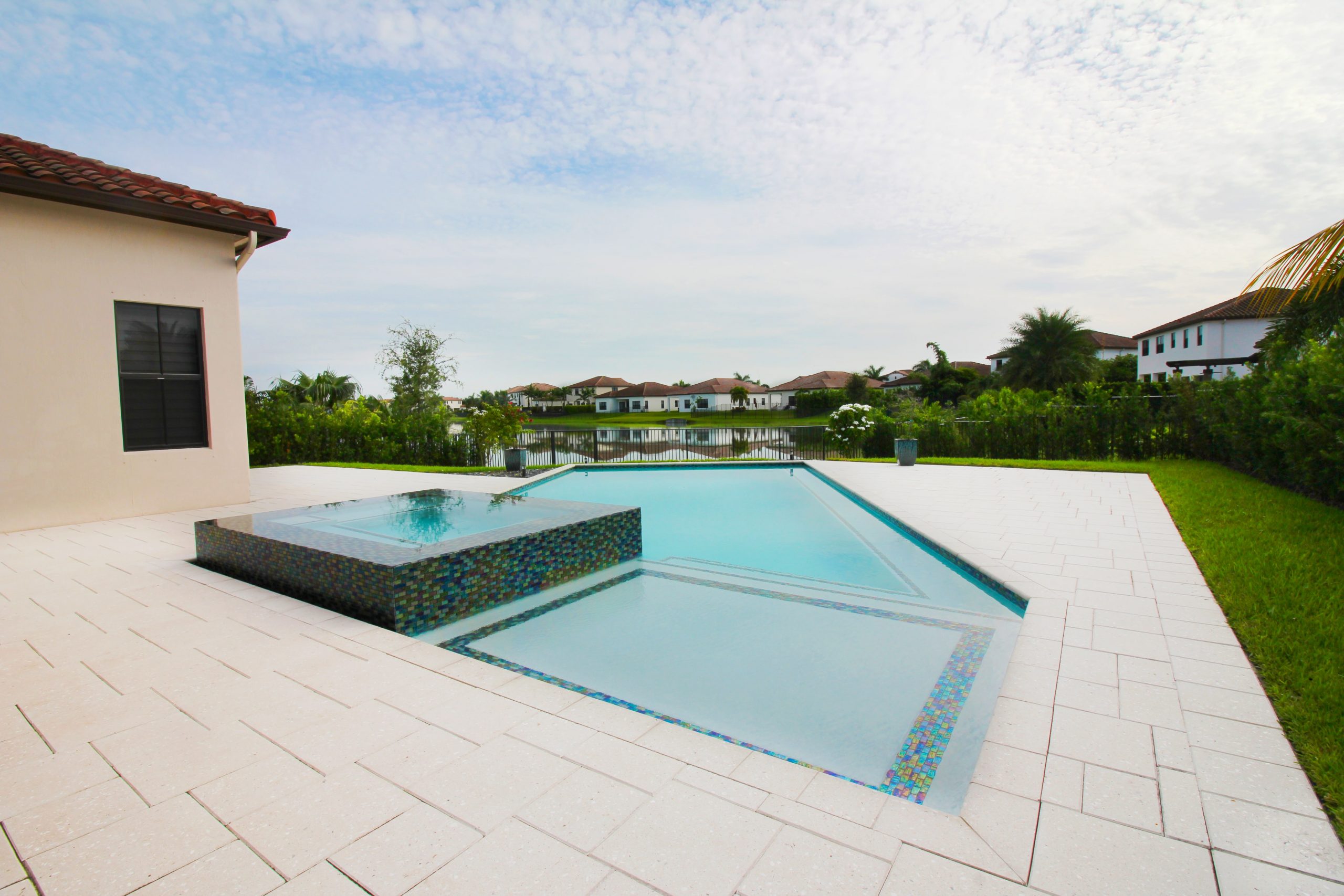 Wet Edge/Vanishing Edge

A wet edge or vanishing edge pool is the ideal design feature for homeowners who want a stunning visual appearance and beautiful views.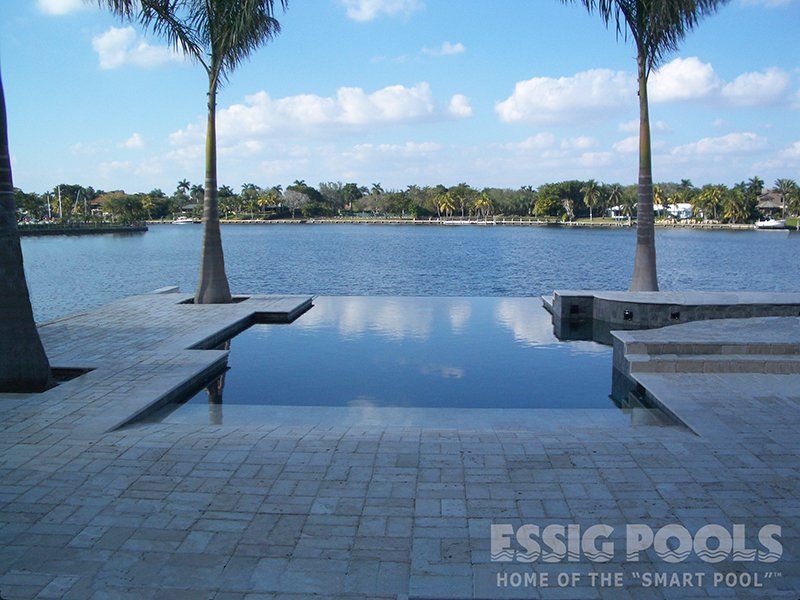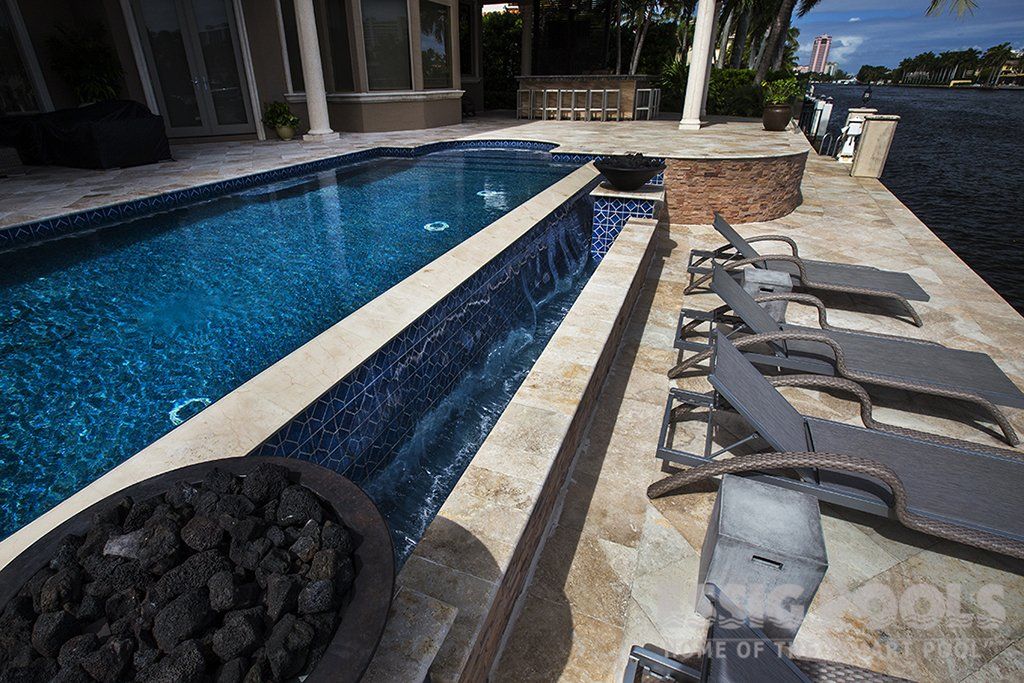 These pools are designed to have water flowing over at least one edge, which creates the effect of having no barriers or boundaries. This can be the right design feature to choose for those who have a pool with a natural body of water close by, such as a lake or the ocean. A vanishing edge pool can make it look as though the pool water is flowing into the nearby body of water. 
Fire Pits 

Fire pits provide a place to enjoy added warmth on cooler days or evenings while still being able to stay in the water or pool area. Custom pools can feature fire pits that are built along the edge or in another part of the pool area.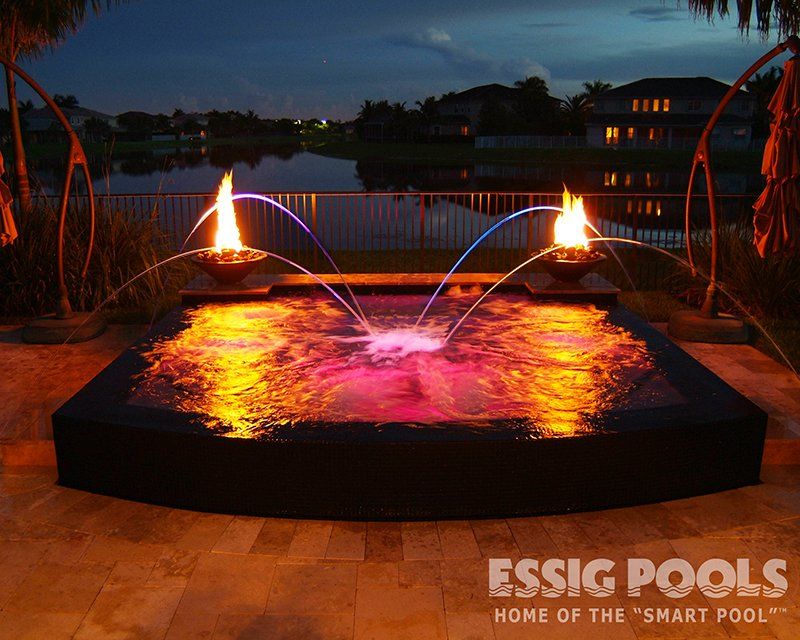 These fire pits can be designed to complement the pool's design, or they can have a style that adds a bit of contrast. Decorative fire pits for pools give swimmers a place to warm themselves and also add a cozy ambiance to pool areas. As an experienced pool contractor in South Florida, Essig Pools can help homeowners come up with the perfect design for fire pits. 
Aggregate Finishes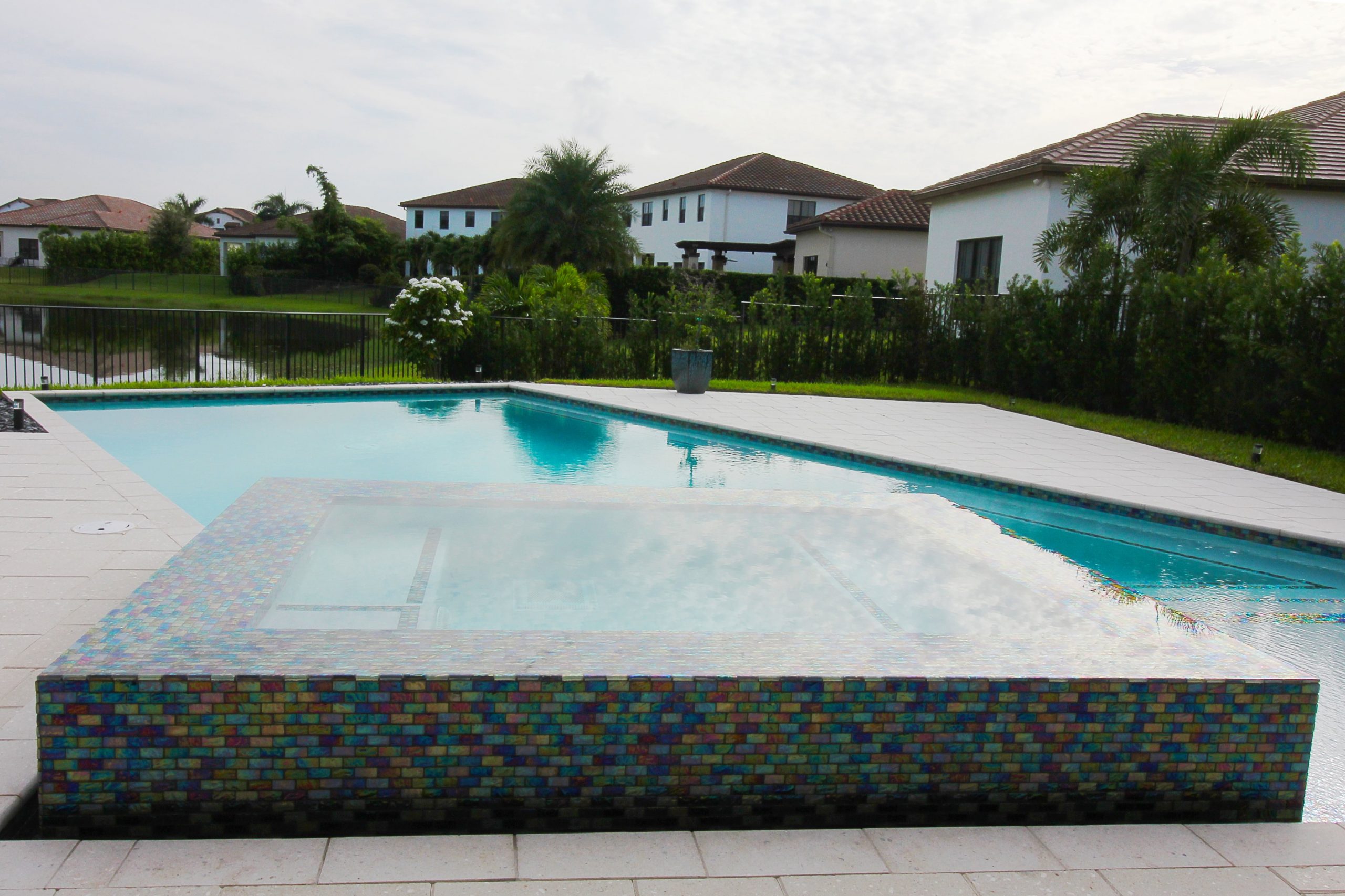 For a durable finish with an eye-catching look, homeowners can explore aggregate finish options. This type of finish comes in polished and exposed options, depending on the visual effect homeowners want. With different materials and colors to choose from, including quartz, river pebbles, and marble, an aggregate finish can give pools a highly customized design. Essig Pools can help homeowners find the perfect aggregate finish for a luxurious custom pool. 
Energy Efficiency

Energy efficiency can offer time-saving benefits for homeowners. These energy-efficient features can keep pools heated without using up significant energy or make it easier to maintain pools. Essig Pools offers energy-efficient multi-speed and variable-speed pool pumps, as well as heat pumps and automated controllers. With our help, homeowners can have a custom pool that requires less time to maintain and uses much less energy. 
Schedule a Custom Pool Consultation
Essig Pools offers dependable, high-quality customer service from start to finish. Homeowners who have an idea of what they want and those who are just starting to explore their pool feature options can receive the help needed to build a custom pool. We have a wide range of concrete pools and spas to choose from.
If you're planning to have a custom pool built at your South Florida home, contact Essig Pools to schedule a consultation and receive a free quote. We can go over available design features and help you choose the right ones for your pool project. You can count on our pool company to provide you with exceptional customer service every step of the way.