Staying Safe Around Your Swimming Pool…
Most homeowners see their swimming pool as "a memory-maker." What else can bring so many fond memories of babies, children, teenagers, and adults having fun with friends and family? Yet in all this delight, we must remember that a swimming pool has risks, just like any other item in your home.
The good news is that over the years, the swimming pool industry has made great strides in improving the safety of swimming pools. Many years ago, the industry created non-slip surfaces, to reduce the likelihood of slips and falls. Fences and alarms added another layer of protection. Most cities, in fact, have specific requirements for fencing around a swimming pool.
New pools are expected to have at least two of these three options: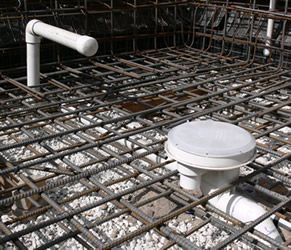 Dual Drains – New pools should have a second drain opening at least 3 feet away from the primary drain opening. The second drain reduces the suction on each of the two drains, reducing the chance of entrapment. Upgrading an older single-drain pool to dual drains is possible. However, it requires extensive cutting into the interior plaster or aggregate finish. Therefore, most homeowners should not consider converting to dual drains except as part of a pool remodel or renovation project.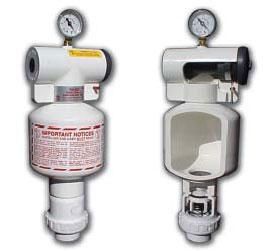 Anti-Entrapment Drain Covers – These specially designed drain covers distribute the suction into a "safe zone," making it nearly impossible for anyone to become entrapped. Standard on all new pools, these can also be retrofitted to most older swimming pools. Important — you should never let anyone enter a swimming pool that has a loose or missing drain cover. If you see a problem with your drain cover, you should close the pool and notify your builder or local pool service company right away.
Safety Vacuum Release System (SVRS) – When a drain becomes blocked, the SVRS provides a rapid vacuum release which disables the pump's suction ability, so that the body or object causing restriction can be freed.This safety upgrade is available for older pools that only have one main drain. Contact us if you would like to add this upgrade to your pool.
Our Smart Pool includes Dual Drainsť, Anti-Entrapment Drain Covers and an Atmospheric Vent Line to reduce suction if the main drain is covered or blocked.
Layers of Protection
As members of the APSP (Association of Pool and Spa Professionals), we support the concept of "layers of protection." This means the pool, spa, or hot tub is equipped with several devices to delay unsupervised access, or to warn of a child's presence. Following are some options identified by the APSP for protecting children and preventing accidents:
Fencing: A fence is designed to keep out kids and uninvited adults. There is a fence for any taste and budget; may include chain link, aluminum, wooden picked, or other materials permitted by the local code. Fences should be a minimum of 4 feet high or higher depending on local codes.
Safety Covers: Pool covers add another layer of protection, blocking access to water when there is not supervision.
Alarms: Alarms are available for doors, fences, in pools, and as a clip-on for children. Alarms detect unwanted entrances to your pool, spa, or hot tub.
Rope and Float Line: Intended to alert children and swimmers of a change in the slope of the pool floor towards the deeper water.
Rescue Equipment: Equipment such as a life ring and shepherd's hook should be placed near the pool in an easily accessible spot.
Posted Emergency Information: Post all CPR, other emergency information, and warning signs, as well as the emergency telephone number – 911 – near the pool, spa, or hot tub.
Outside Telephone: Be sure to have a telephone in case you need to summon help.
FOR ADDITIONAL INFORMATION ABOUT POOL SAFETY, PLEASE VISIT:
What People Are Saying About Us
I called a few days ago for a quote on building a pool & the receptionist that spoke to me was so sweet & professional on the phone. I was very pleased with the explanation she gave me. I believe her name was Cari. Very nice young lady. spoke so eloquently over the phone & had a very cheerful attitude. Very good first impression. More companies need to have a receptionist like Cari. I will definitely recommend all my colleagues to Essig!
- Luis Delgado | Google Review
We reached out to several pool contractors and when we met with their salesman Carlos Kaba from Essig Pools we knew we had found the company to build our pool. Everyone we worked with at Essig Pools was very professional and you can tell they care about their clients. The construction process was smooth and everything went as promised. We highly recommend Essig Pools for your pool construction needs!
- Mario Deas | Google Review
It was a great experience, we are very happy with the results.
- Rogelio G | Google Review
The entire team of ESSIG Pools were an absolute pleasure to work with.
- John & Tina Babos | Google Review
Essig always has my back, this is why everyone should do business with Essig pool they have a great support team.
- Juan E | Google Review
The pool is great and we are referring Essig Pools to our friends.
- Frank N | Google Review
Your Dream Pool Awaits
Contact us today for a free quote on your dream backyard!
North Dade:
305-949-0000
South Dade:
305-253-4673
Broward:
954-438-6251
FL License CPC052505
Essig Pools
10111 Business Dr.
Miramar, Fl. 33025