The Smart Pool™ By Essig Pools
Since the day we first opened our doors, it's been our goal to build a better swimming pool – a pool that we can be proud of. That's why we created "The Smart Pool™" to help homeowners get a high-quality swimming pool at a reasonable price.
The Smart Pool™ By Essig includes all the features a great pool should have to be beautiful, safe, and easy to maintain. For example, the Smart Pool™ has 30% more steel and up to 50% thicker walls than required by South Florida building codes. And it's built with Shotcrete, not Gunite, so it's stronger and harder than your average pool, and because we use the best materials and more of them, we back up our pools with extended guarantees. (Get our FREE "Pool Ideas" DVD to find out why is Shotcrete better than Gunite).
There are two ways to build a swimming pool. You can use low-cost products, cut corners during the construction, and sell it at a lower price. Or, you can do it right. If you cut corners, you may save a little money upfront. But you'll wind up with a pool that's going to cost money and cause trouble down the road.
On the other hand, you can build a pool the Smart way. You can use high-quality products, and use smart construction methods. This will produce a swimming pool that is cleaner, safer, looks better, costs less to operate, and lasts for a lifetime. That's what we call "The Smart Pool™ by Essig." And that's why every one of our pools comes with long warranties.
Get our FREE "Pool Ideas" DVD to find out what makes a Smart Pool™ so much better than a "not-so-smart" pool: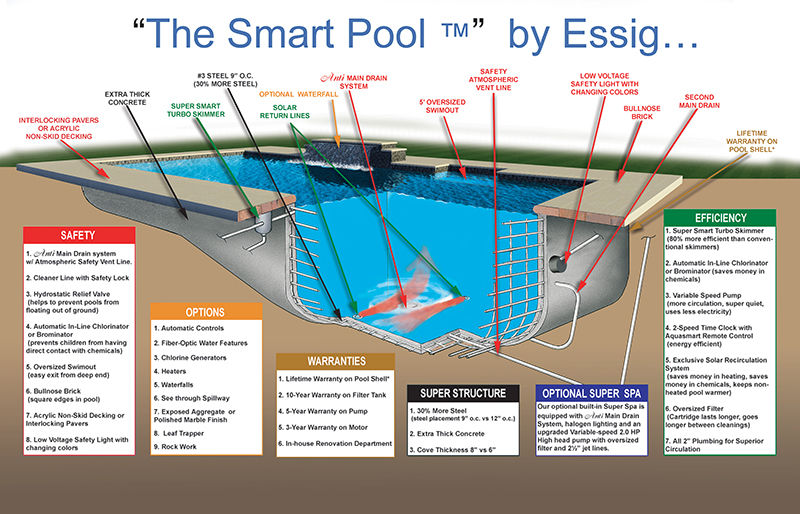 TIME-SAVING & ENERGY SAVING FEATURES OF THE SMART POOL™
Energy Efficient – 2 Speed Pump
Energy Efficient – Heat Pumps
Smart Controller – Automation
Energy Efficient – Smart Solar Returns
Efficient, Oversized – Smart Filter
Efficient – Turbo Skimmer
Efficient, Oversized – Plumbing
Automatic – In-Line Chlorinator
Salt-based Chlorine Generator
Chemical-Buffering – Mineral System
Low-Voltage – LED Pool Lighting
BUILT-IN SAFETY FEATURES OF THE SMART POOL™
The Smart Drain
Deep-end swim-out
Bull-nosed brick coping
Skid-resistant Artistic Pavers
Hydrostatic Relief Valve
Vacuum Line Safety Lock
OTHER SMART OPTIONS & FEATURES AVAILABLE FOR THE SMART POOL™
Smart Construction
Smart Warranty
The Smart Spa
Vanishing Edge
Perimeter Overflow
Waterfalls & water features
Custom Rock features
Fire Pits
Flaming woks
Clear spillways
All-tile finish
Leaf trapper
What People Are Saying About Us
I called a few days ago for a quote on building a pool & the receptionist that spoke to me was so sweet & professional on the phone. I was very pleased with the explanation she gave me. I believe her name was Cari. Very nice young lady. spoke so eloquently over the phone & had a very cheerful attitude. Very good first impression. More companies need to have a receptionist like Cari. I will definitely recommend all my colleagues to Essig!
- Luis Delgado | Google Review
We reached out to several pool contractors and when we met with their salesman Carlos Kaba from Essig Pools we knew we had found the company to build our pool. Everyone we worked with at Essig Pools was very professional and you can tell they care about their clients. The construction process was smooth and everything went as promised. We highly recommend Essig Pools for your pool construction needs!
- Mario Deas | Google Review
It was a great experience, we are very happy with the results.
- Rogelio G | Google Review
The entire team of ESSIG Pools were an absolute pleasure to work with.
- John & Tina Babos | Google Review
Essig always has my back, this is why everyone should do business with Essig pool they have a great support team.
- Juan E | Google Review
The pool is great and we are referring Essig Pools to our friends.
- Frank N | Google Review
Your Dream Pool Awaits
Contact us today for a free quote on your dream backyard!
North Dade:
305-949-0000
South Dade:
305-253-4673
Broward:
954-438-6251
FL License CPC052505
Essig Pools
10111 Business Dr.
Miramar, Fl. 33025