Award-Winning
Custom Pool Builders
Essig Pools has been synonymous with magnificent, high-quality swimming pools that are built to stand the test of time. Here is what you can expect:
Highest-Quality Workmanship
Long-Term Reliability
Maximized Value
Award-Winning Designs
Energy Efficiency & Cost Savings
Contact us today to discuss your project and get one step closer to living the pool life! >>
Yes, Give Me A Free Quote
OUR CUSTOMERS LOVE THESE PROJECTS
Excellence, the Essig Way: Dive into a Legacy of Dream Pools
Since 1981, Essig Pools has set the gold standard for swimming pools in South Florida, epitomizing excellence in every project. Our pools aren't just built; they're crafted with passion, precision, and a promise of quality. We understand the gravitas of the decision to buy or renovate a pool, and our 40 years of experience stands testament to our commitment to bring those dreams to fruition flawlessly. Envision a new oasis or transform an existing space; with Essig Pools, every journey is seamless, and every outcome speaks volumes of luxury and reliability.
Your dream, our craft—experience the unparalleled Essig difference.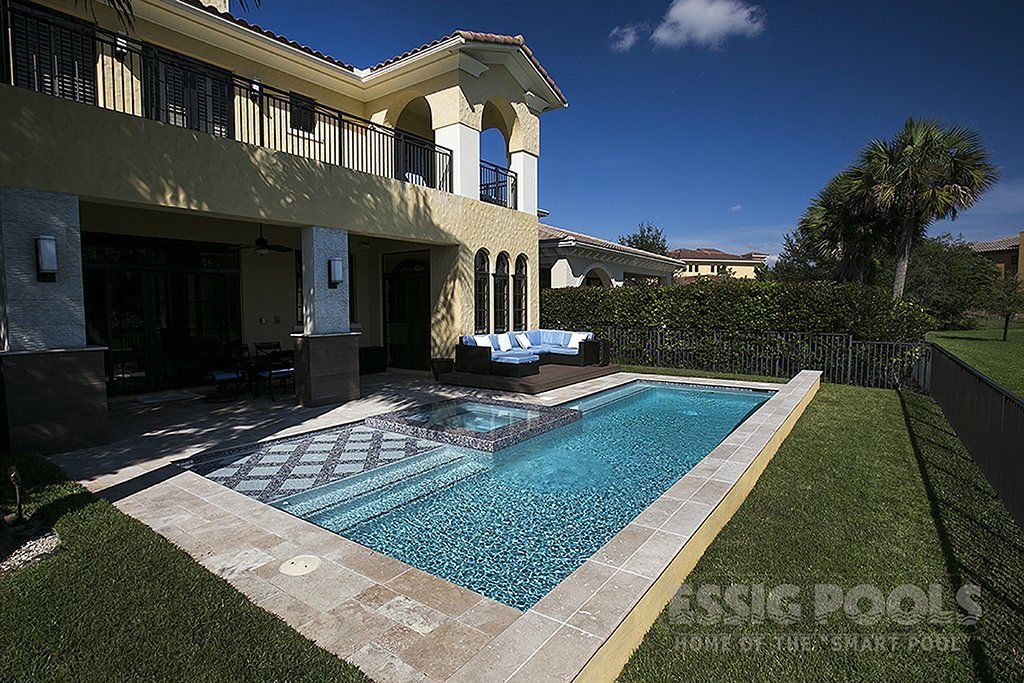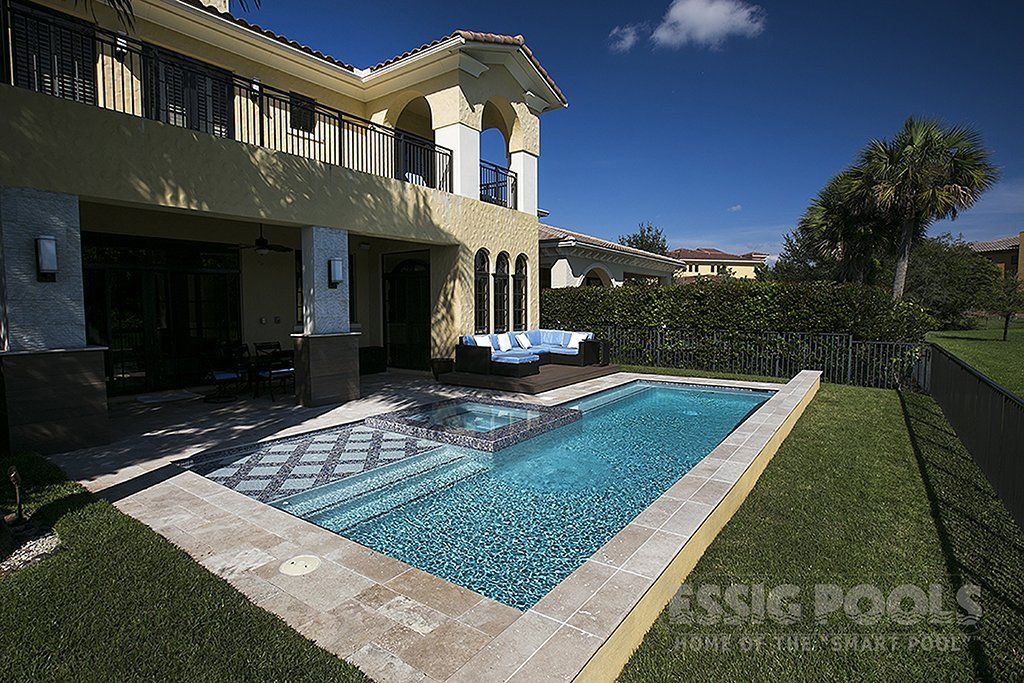 Whether it's the modern allure of geometric designs, the natural flow of freeform styles, or the opulent touch of luxury pools, Essig Pools turns your backyard vision into a reality, uniquely tailored just for you.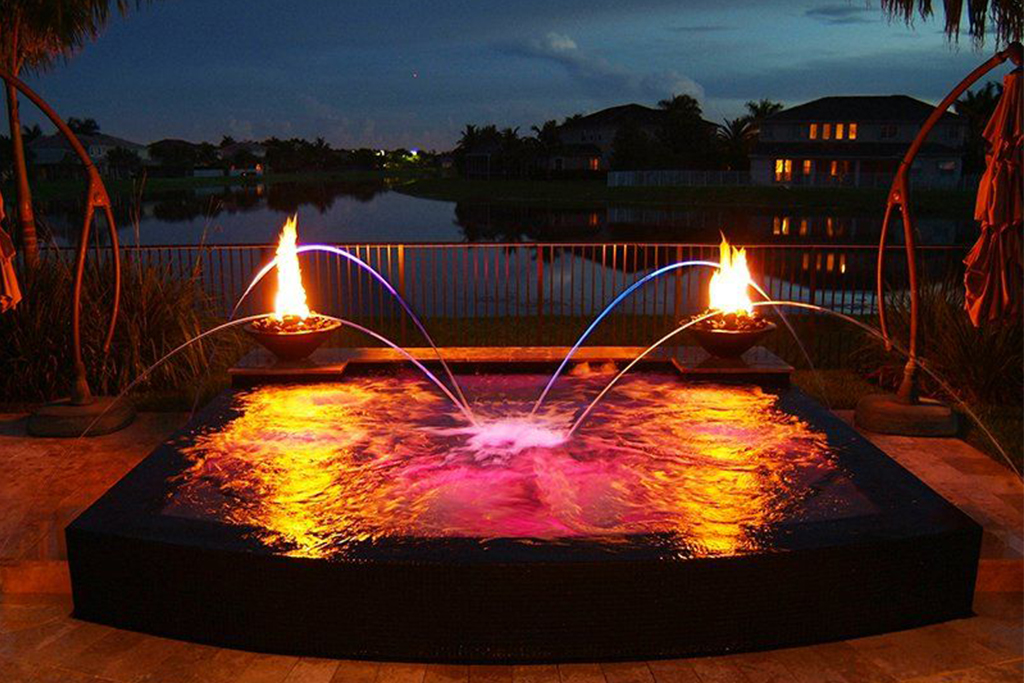 Our award-winning spa designers will help you bring your vision to life so you can sit back and enjoy life.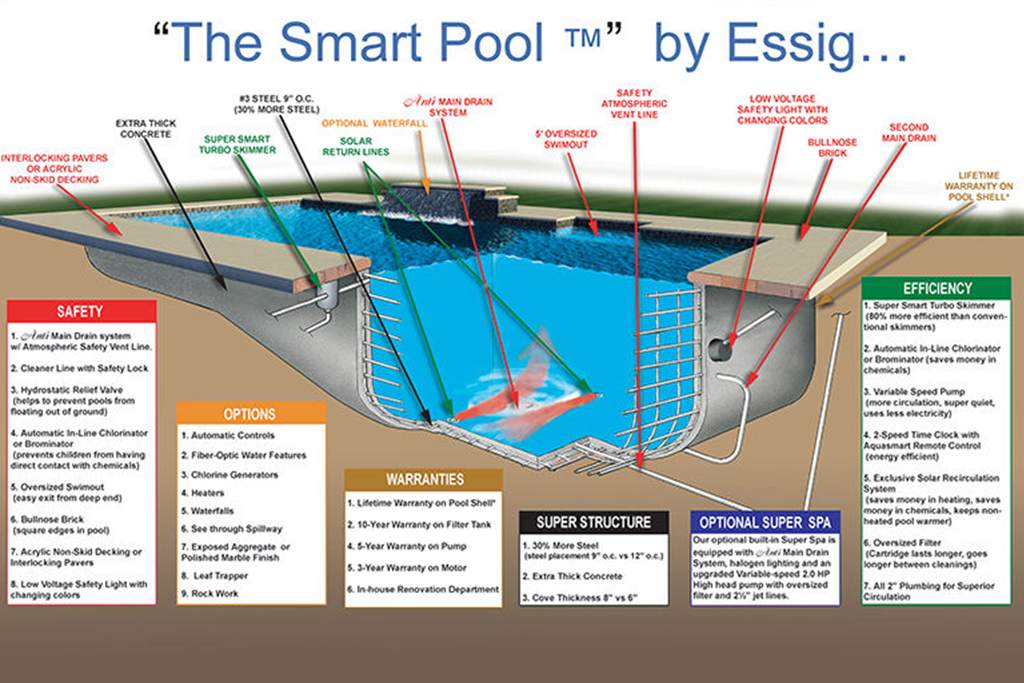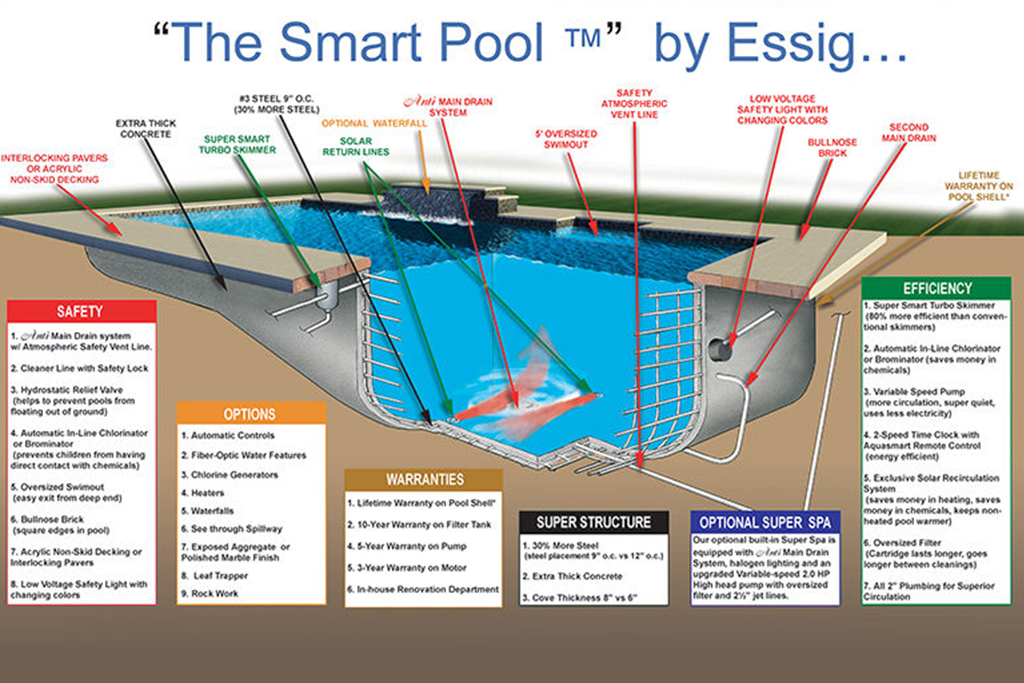 Experience next-level durability with our high-quality pools, integrated with intelligent features for hassle-free maintenance. Designed for longevity, it's the future-proof choice for peace of mind.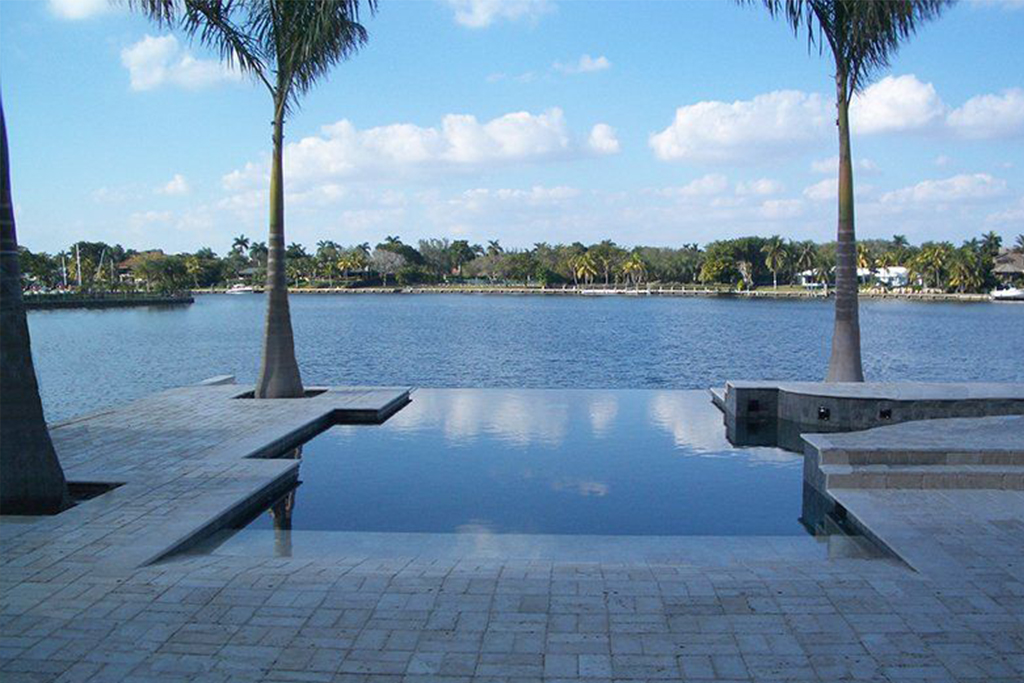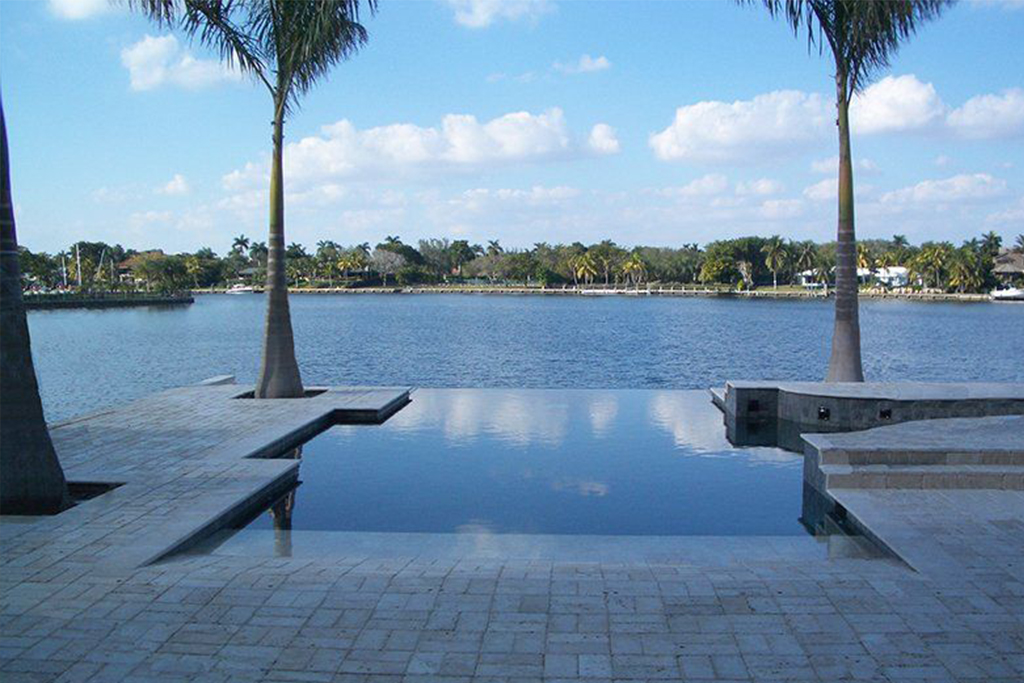 Craft the illusion of boundless horizons with our Infiniti Edge pools. Seamlessly merging the pool's edge with the distant vista, it's an awe-inspiring blend of design and perception.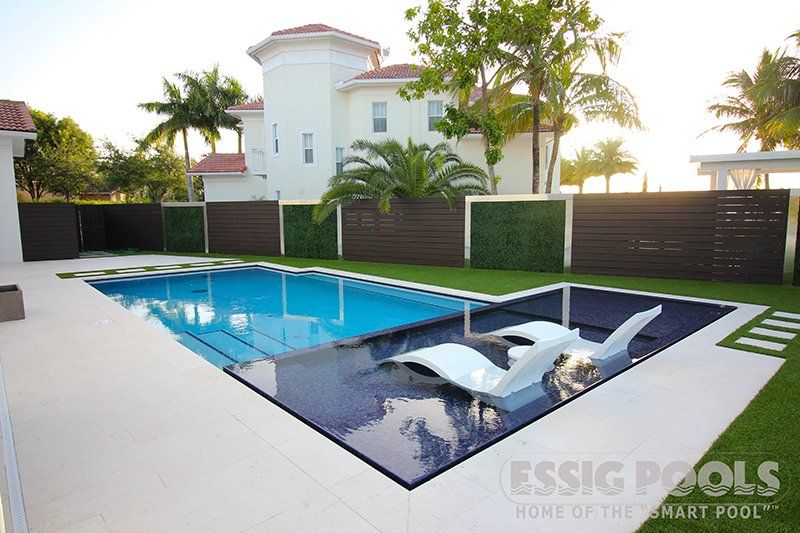 Elevate your outdoor space with our wet edge pool finish. Its contemporary design seamlessly extends the water's surface, adding a touch of modern elegance to any landscape.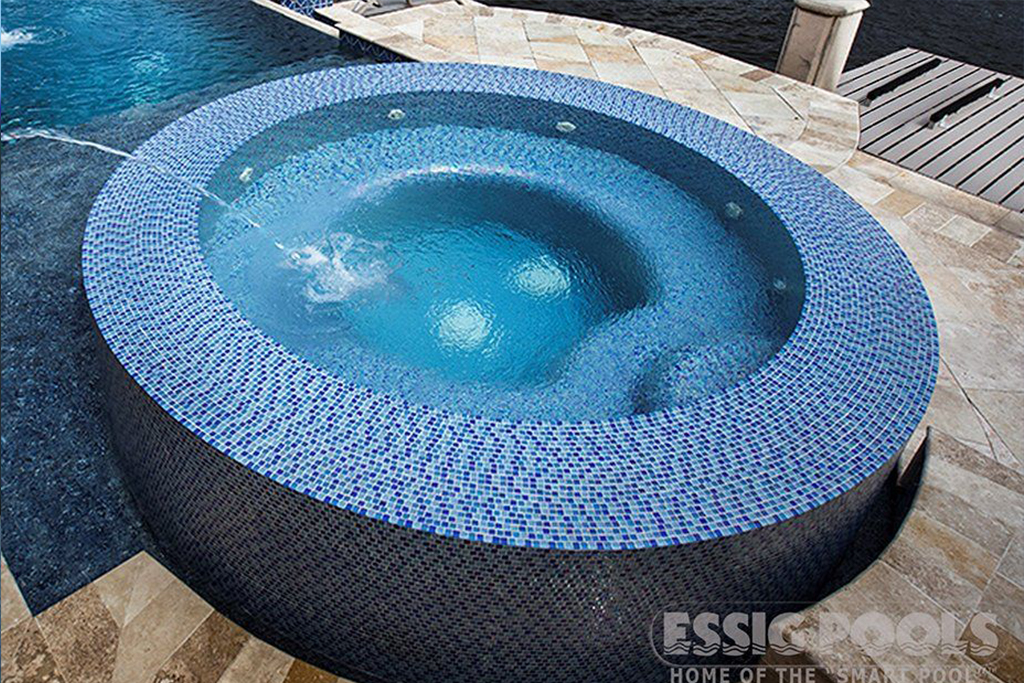 Elevate your pool experience with a personalized spa touch. Immerse in rejuvenating warmth and let the day's stress melt away. A luxury you deserve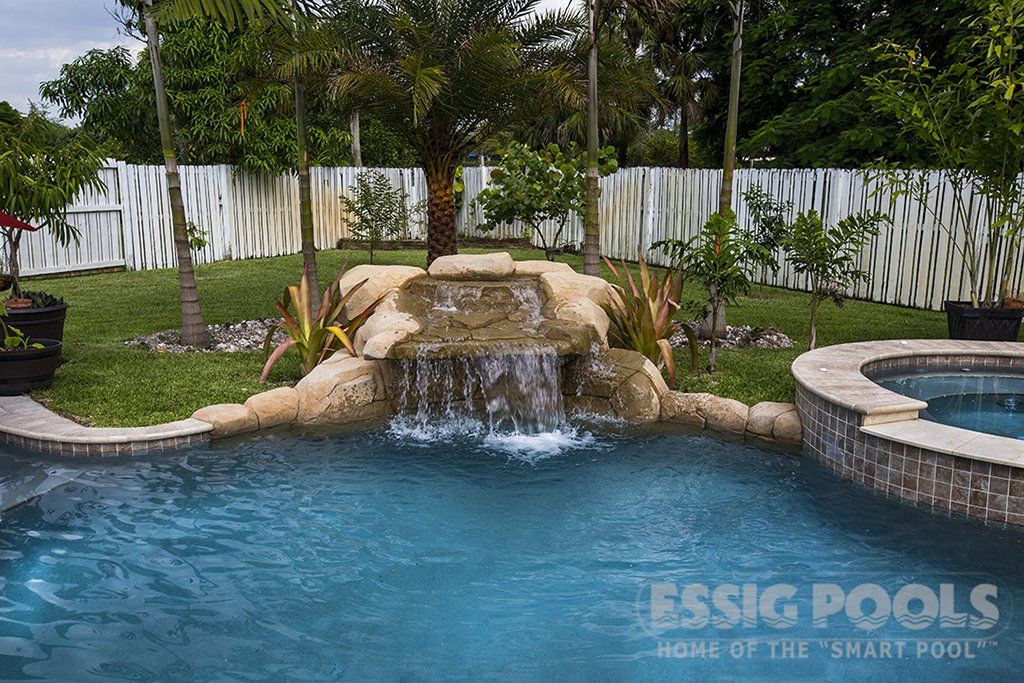 Transform your pool into a visual masterpiece. From cascading waterfalls to serene fountains, our bespoke features elevate aesthetics and ambience. Dive into a world of possibilities!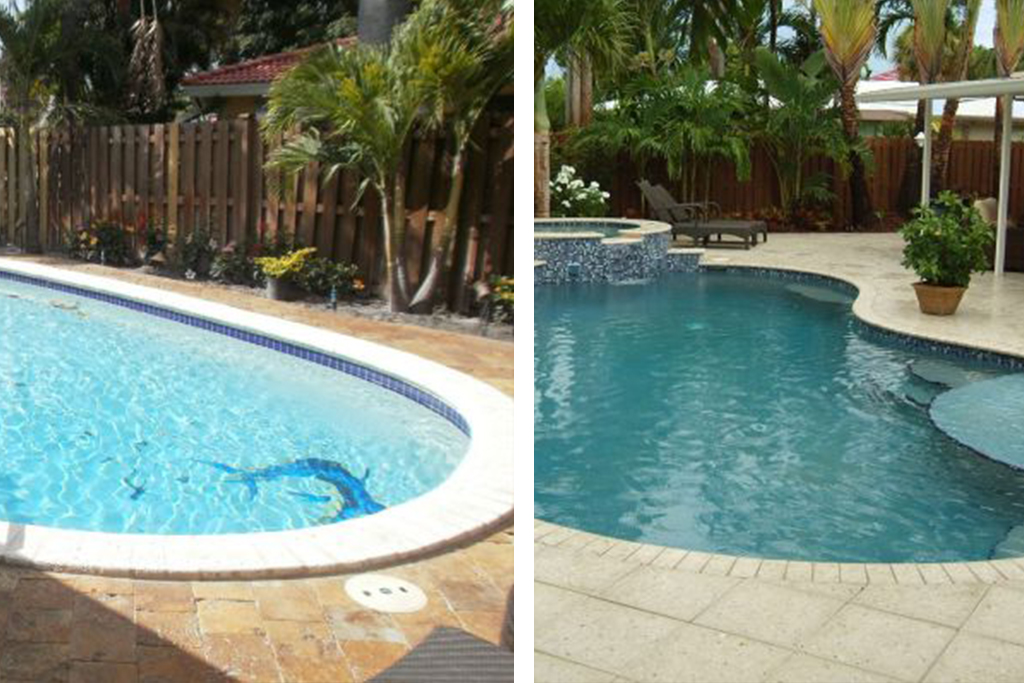 Renovations
Revitalize your oasis with our expert touch. Our renovation team seamlessly transforms pools and backyards, refreshing your space for today's luxury. Dive back into beauty.
We are the preferred commercial swimming pool builder throughout South Florida, specializing in the design, construction, renovation, and refinishing.
What People Are Saying About Us
Essig Pools are the experts in customs pool construction and service. They finished our 40' x 15' lap pool earlier this year in a fairly constricted backyard space requiring specialized excavation equipment and experienced operators in order to get the job done right. Their post construction service support under Elaine Tisdol has been superb, along with her service team, Yvan and Ray. Many thanks to them for keeping my pool operating to perfection. I made the right choice with Essig.
Liz Martin-Bush
2023-09-13
Working with Nicole in permits department was great she delt with all the delays of the city of Pembroke Pines like a champ wish the city had employees like her
Very professional contractor both during construction as well as after market service. In my experience they have gone above and beyond their obligations a few times, saving me $$ in the process. Their customer service is excellent.
El Mirador Compound
2023-08-29
Elaine Tisdol - Warranty Coordinator- the absolute BEST. Elaine has given the best service anytime I've had something pop up. She really knows the pool systems.Elaine is what has made Essig a 5 Star Pool Company. ⭐️⭐️⭐️⭐️⭐️
Essig Pools is professional and does a great job. It's the people like Elaine that make it so easy to work with them. She is always quick to respond and so helpful with any questions I have. Essig makes amazing pools but the people that work there is the reason you should use choose them.
Guillermo Rodriguez
2023-08-21
Elaine from service and warranty is the best in responding to any problem with the pool. Very happy with her service!!
Samantha narain
2023-08-17
Todo el personal de Essig pools, Sara, nuestra sales designer permisos, (Nicole); construcción (heidy); inspecciones ( Ashley), accounts and billing ( Day), Eileen ( warranty and repairs), fue muy profesional y responsable a la hora de manejar nuestro proyecto, los tiempos de entrega fueron cuando dijeron, quedamos muy contentos con todo el proceso, 100% recomendados. Alfredo Narain & Luciana Torres
Dimitrije Jevremovic
2023-07-31
It has now been a little over ten months since Essig Pool has successfully completed the pool construction, plastered and "initiated" the swimming pool in my backyard, back in the September of 2022. The decision to select Essig Pools as my builder was followed after I interviewed eight builders, some of them being in business uninterruptedly for several decades. I ought to say that Essig Pools and the sales representative who worked with me, Mr. Joseph Ingrando, did what other contractors and their representatives did not. While everyone else wanted to rush me to sign the contract, reluctant to answer my follow up questions and invite me onsite to their showroom and company grounds, and in some cases even reluctant to come out to my home prior to signing the contract, Mr. Ingrando has done both of it and beyond. First, Mr. Ingrando came out twice onsite to my home, carefully listened to my ideas and wants, corrected me in some of my naive assumptions, always proposing a better alternative, answered all of my questions about the construction aspects, terrain inspection, equipment manufacturers, post-construction pool maintenance and many others. Following the initial scoping and discussion, Mr. Ingrando put together a visual design of the backyard pool and surroundings, which we would then refine over several iterations onsite at Essig Pools offices in Miramar, where Mr. Ingrando walked me through their showroom, introducing me to some of their staff and where we signed the initial contract. The pool, according to my initial sketch, was supposed to have a sun shelf with an anchor for umbrella, waterfalls, raised wall on one side, pavers deck covering specified surrounding area, and the selection of equipment at a designated location near the house. Coupled with the challenges of the 2021 year and COVID, and following a wait of couple months, project was picked up by Essig's engineering department for detailed designs in November of 2021 from where it would then be sent to the City of Fort Lauderdale Building Department for permitting, which itself took two months. Mrs. Nicole Mascarenhas from Essig's Permits department was masterfully managing this step which often required reaching out to individual city inspectors as at times the process would stall. Armed with the permits which were approved by the end of March, everything was ready for the start. The actual works were entirely executed by the Essig's Engineering department, coordinated by the very skillful and dedicated Mrs. Heidy Mirabal, and again in spite of occasional shortage of materials (e.g cement, tiles, pumps) which introduced some wait time throughout the process. Mrs. Mirabal scheduled, coordinated and managed the crews across all of the steps in construction leading to the plastering such as: (1) excavation (2) rebaring, (3) plumbing, (4) electrical, (5) tiling, (6) equipment setup and installation, (6) grading, (7) pavers installation and (8) final grade and "prep work". Some of these steps, if not nearly all, were followed by the mandatory inspections by various city inspectors which both Mrs. Mirabal and Mrs. Mascarenhas would coordinate at the time. All of the aforementioned steps were completed by the first week of August of 2022 spanning a period of four months. From this point, the project was handed to Mrs. Elaine Tisdol of the Services and Warranties department who would be my point of contact for the final step of plastering and pool start up. I want to commend Mrs. Tisdol for her engagement and availability both during the final plastering step and pool startup, and also during all these months since the completion of the project. Throughout all this time, Mr. Joseph Ingrando would regularly check in with me. I have contacted him on several occasions since completion on questions I've had asking his advice and he has always returned my call or text. Just yesterday, on a Sunday, I reached out and once again there he was on a weekend answering my question. Service after the sale has been optimal.
Valerie Greenberg
2023-06-28
Eliane in warranty at Essig has been super helpful. Essig built my pool a couple of years ago. Recently, I needed a replacement part and Elaine jumped in! I tried dealing w/ the manufacutrer directly and got nowhere. I cannot thank Elaine enough for solving my problem onthe spot!
AVENTURA
,
BAL HARBOUR
,
BAY HARBOUR ISLANDS
,
BISCAYNE PARK
,
COCONUT CREEK
,
COCONUT GROVE
,
CORAL GABLES
,
CORAL SPRINGS
,
CUTLER BAY
,
DANIA BEACH
,
DAVIE
,
DEERFIELD BEACH
, DORAL,
EL PORTAL
, FISHER ISLAND,
FORT LAUDERDALE
, GOLDEN BEACH,
HALLANDALE BEACH
,
HIALEAH
, HOLLYWOOD,
INDIAN CREEK VILLAGE
, KEY BISCAYNE,
LAUDERDALE BY THE SEA
,
LAUDERHILL
,
LIGHTHOUSE POINT
,
MARGATE
,
MIAMI
,
MIAMI BEACH
,
MIAMI GARDENS
,
MIAMI LAKES
,
MIAMI SPRINGS
,
MIRAMAR
,
NORTH BAY VILLAGE
,
NORTH LAUDERDALE
, NORTH MIAMI,
NORTH MIAMI BEACH
,
OAKLAND PARK
,
OPA LOCKA
, PALMETTO BAY,
PARKLAND
,
PINECREST
,
PLANTATION
,
POMPANO BEACH
,
SEA RANCH LAKES
,
SOUTH MIAMI
,
SUNNY ISLES
,
SUNRISE
,
SUNSET ISLE
,
SURFSIDE
,
TAMARAC
,
WILTON MANORS
, AND MORE SURROUNDING CITIES.