Whether it's new construction or renovation, a beautiful swimming pool offers an exclusive way to enjoy the outdoor living space and uplift the appearance of any home. Homeowners can consider several custom pool designs, types, and models to upgrade their swimming pools and live the life of their dreams.
Custom pools offer an excellent way to hang out, cool off, or have fun with friends and family. From elaborate family swimming pools to minimalist modern units, a swimming pool that follows the current custom trends and ideas offers an excellent way to complement spaces, create attractive surroundings, and uplift even the simplest homes.
The beautiful visual arts, energy-efficient innovations, and relaxing custom pool features are some ways to make the home puddle more enjoyable. Here are a few considerations for both new construction and remodeled swimming pools.
1. Spa Additions
Whether above-ground or in-ground, spas are taking pool projects by storm in 2022, and more innovations are coming up to make the feature more outstanding. Traditionally, the hot tub stood close to the pool. However, the latest designs bring the pool and spa together.
Unlike the visible separation that traditionally sets the pools and spas apart, spa additions to the swimming pools can now appear as one integrated space, with a seamless dam wall preventing the hot tub water from mixing with the cold pool water.
Some spa designs also include enticing spillways that create the effects of a waterfall. A spa addition is an answer for any residential or commercial property owner looking for a stylish way to elevate and customize their swimming pool design.
2. Water Features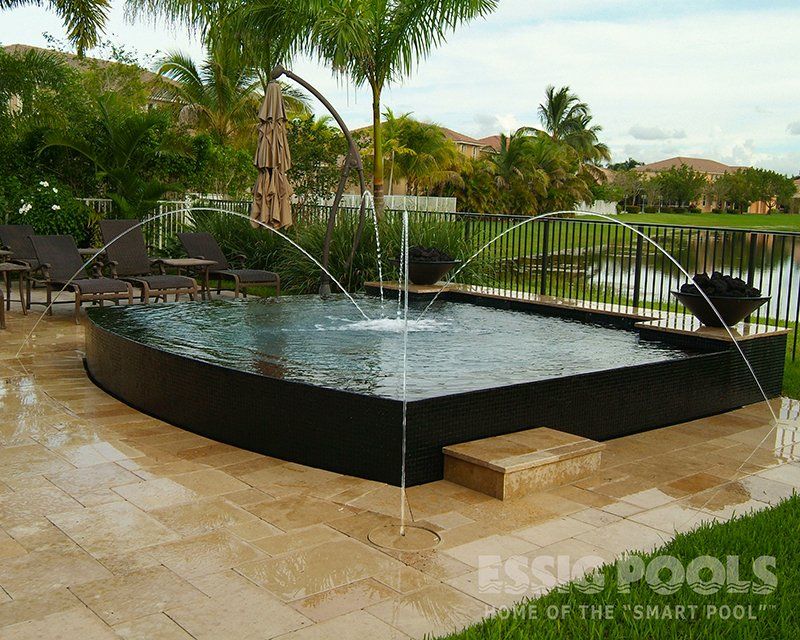 Custom pools and spas have come a long way since the invention of bathtubs and hot tubs in the 1960s. Today, the dream isn't simply about a small water body in the yard that family and friends can use to cool off after a long day, hang out or have fun. Pool and outdoor designs focus on unique aesthetics, and most homeowners desire swimming areas that add attraction and glamor to their outdoor living spaces.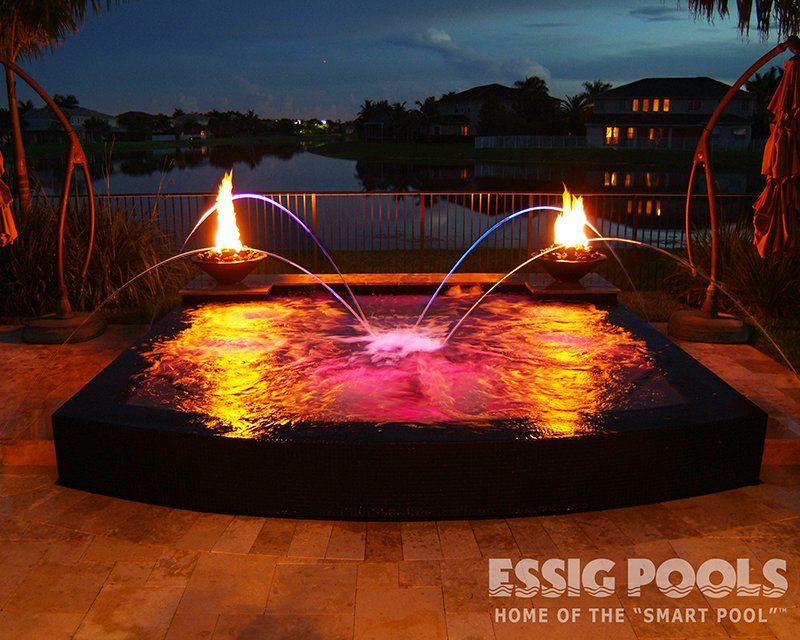 Key ways homeowners can achieve a beautiful outdoor living space is by adding striking water features to their swimming pools. These features can bring a serene and calm feeling and a unique way to relax. 
Some water features to consider include:
Waterfalls

Cascades

Bubblers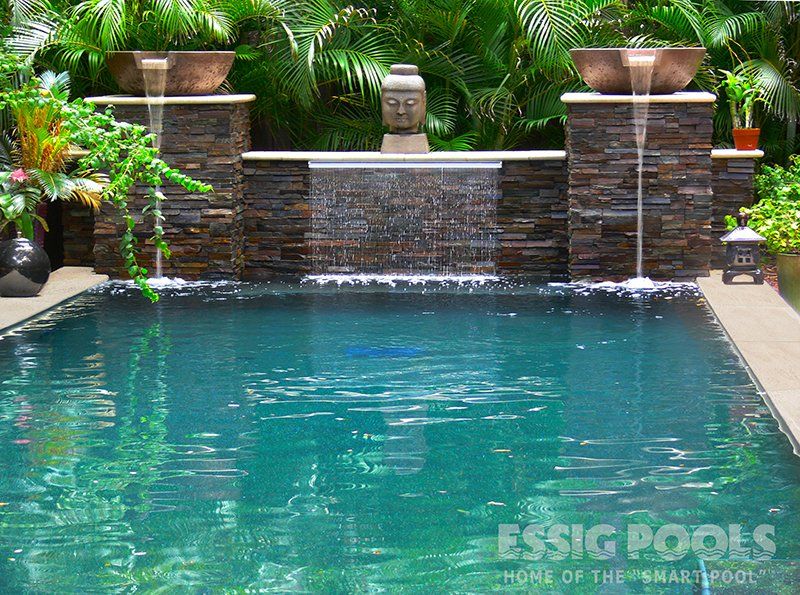 3. Fire Pits 

A homeowner may want to talk to their swimming pool designer about adding a fire pit to the structure. Fire pits are unique and customizable and can perfectly match the style and aesthetics of any pool.  Fire pits can offer beauty and character to swimming pools and spas and combine fire and water together.
4. Swimouts, Tanning Ledges, and Benches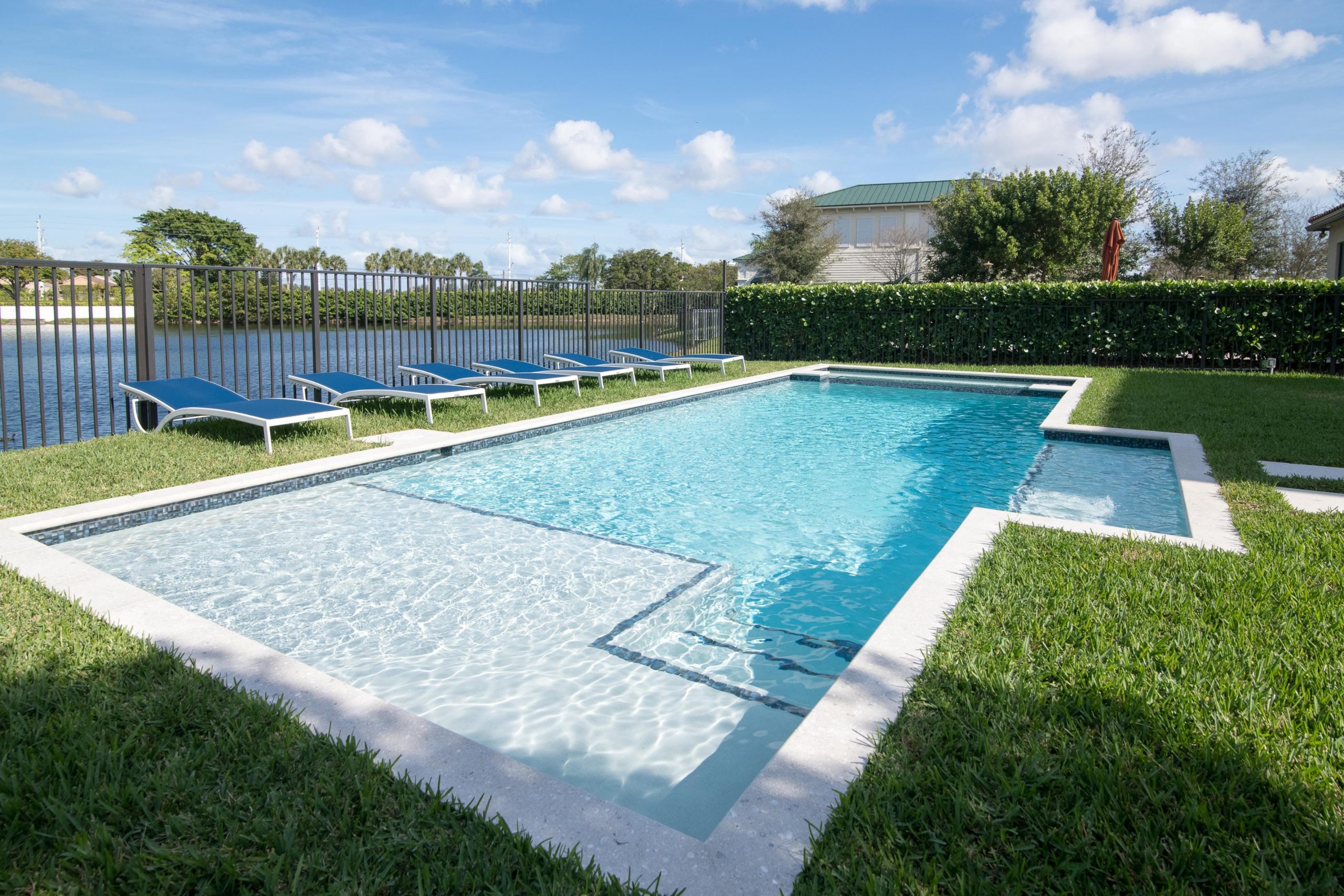 Tanning ledges, sometimes called Baja shelves or benches, refer to the shallow parts of the pool that are perfect for lounging. Anyone who has ever dragged a chair towards the puddle to lounge while with legs touching the water can relate to the beauty and benefits of Baja shelves, as they allow users to rest their feet in the water without necessarily swimming or fully submerging.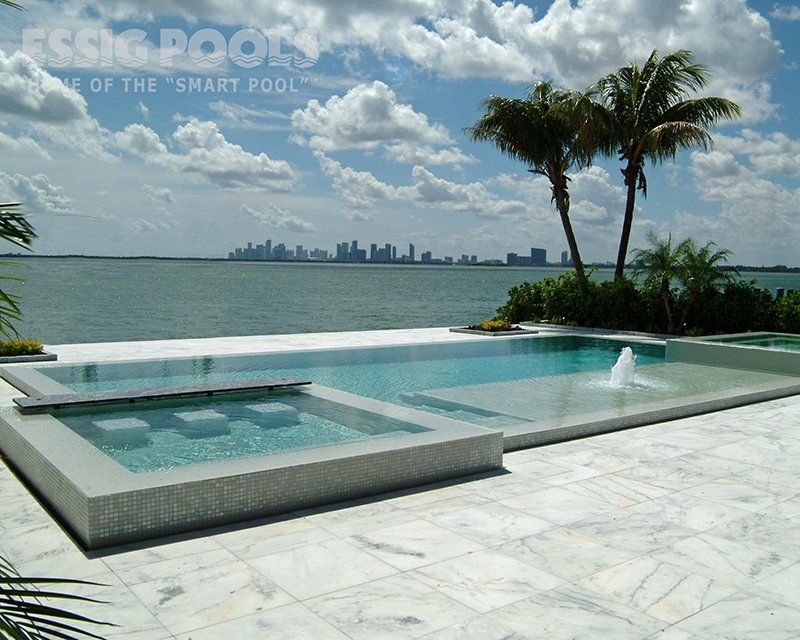 Also, homeowners are often adding swimouts to allow easy access to the swimming pools. Swimouts refer to the underwater seating areas constructed outside the pool's perimeter shape. Swimouts can either be on the shallow or deep end of the pool. Alongside their trendy look, swimouts are so functional. The benches don't consume much space, so there is no congestion in the pool. Also, they ease entry and exit out of the pool, especially from the deep end.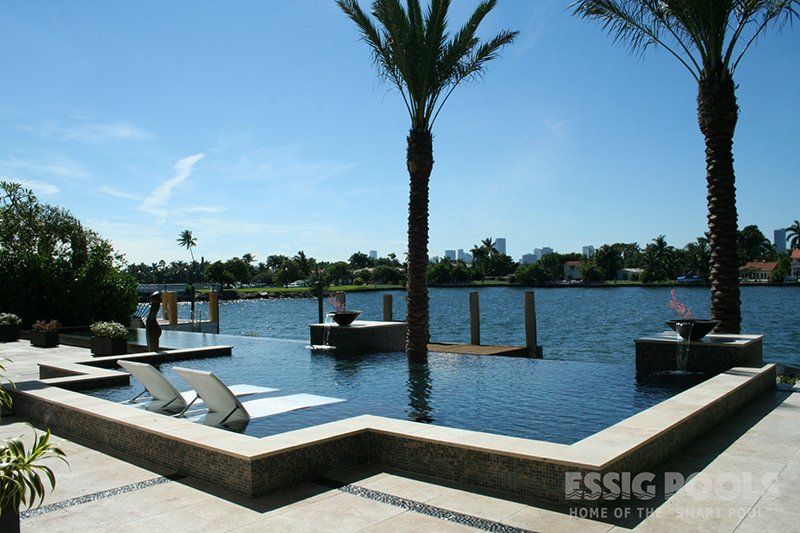 If the user doesn't want to swim, they can easily enjoy the beauty and cool their bodies in the water while comfortably sitting on the swimouts. Swimouts allow users to quickly enter or exit the pool or rest on the benches while enjoying the sight and calm of the water.
5. Wet Edge or Vanishing Edge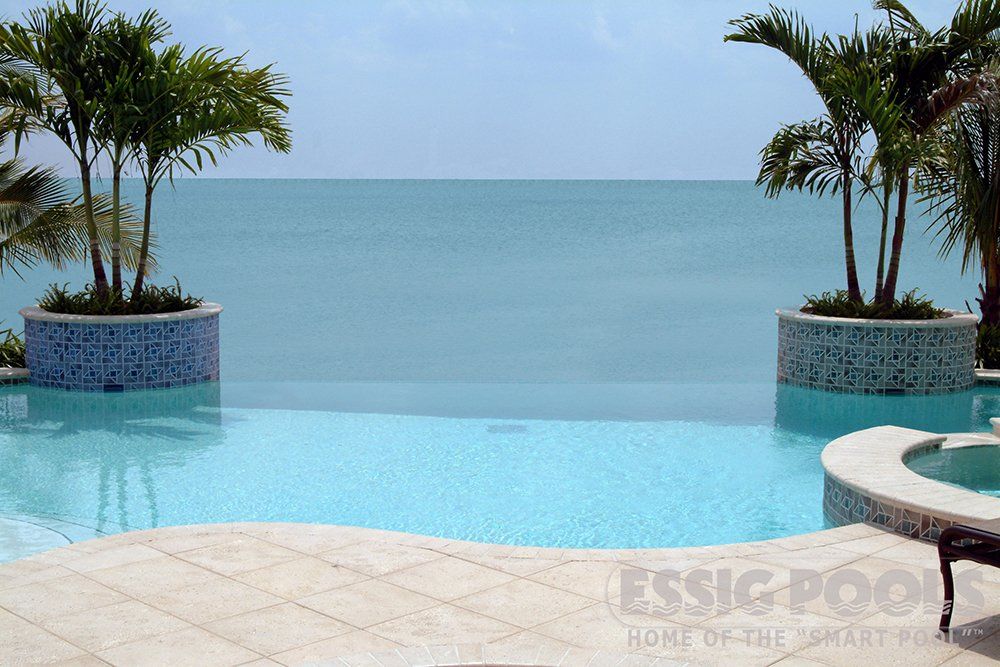 A vanishing edge pool, also called wet edge, creates a beautiful illusion of an invisible water edge that transforms any yard into a tranquil oasis. In a vanishing edge swimming pool, the water pours over a single edge, creating an illusion of boundless water that seems to merge with the sky or another large water body. They offer a unique, serene, and luxurious way to redefine the outdoor living space and create the pool of your dreams.
6. Aggregate Finish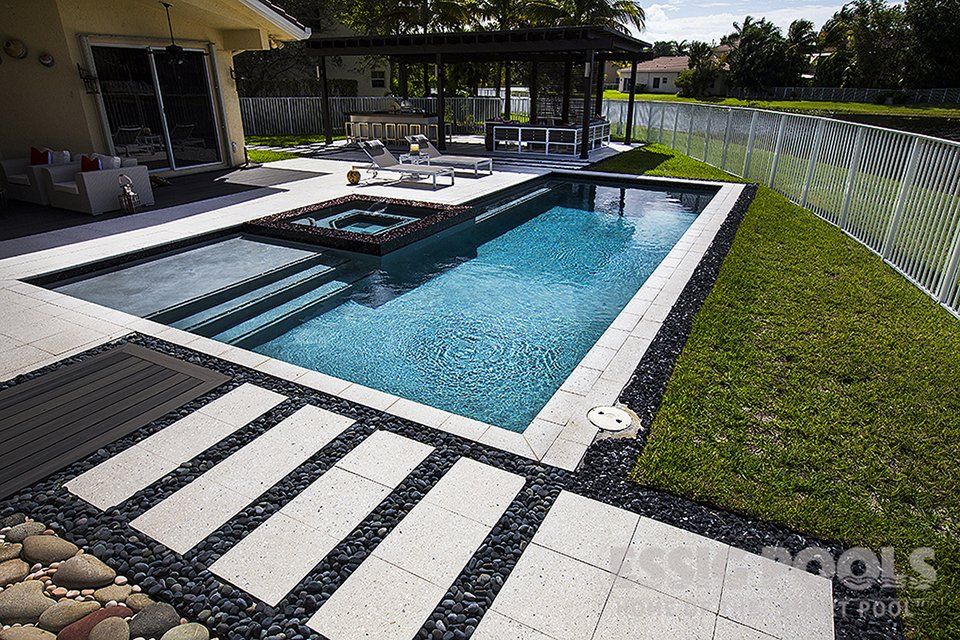 Many pool owners are now choosing to improve the look of their pool areas by incorporating various aggregates into their pool design and surrounding area. Aggregate finishes come in various options, including quartz, pebbles, stones, or colored glass beads, and they offer a luxurious way to add some glamor to a pool and give it a spa feel.
7. Energy Efficient Pools

Another trend in custom pool designs is the latest energy-efficient solutions. For example, a pool company can advise on the latest automation technology, allowing homeowners to save money by installing features such as temperature control systems and high-efficiency pumps.
Another energy-saving solution that's popular in 2022 includes changing pool lighting to LED lights. LED bulbs consume up to 90% less energy compared to the other lighting options. Also, they last longer and waste less energy on heating.
Ready to Create The Custom Pool of Your Dreams?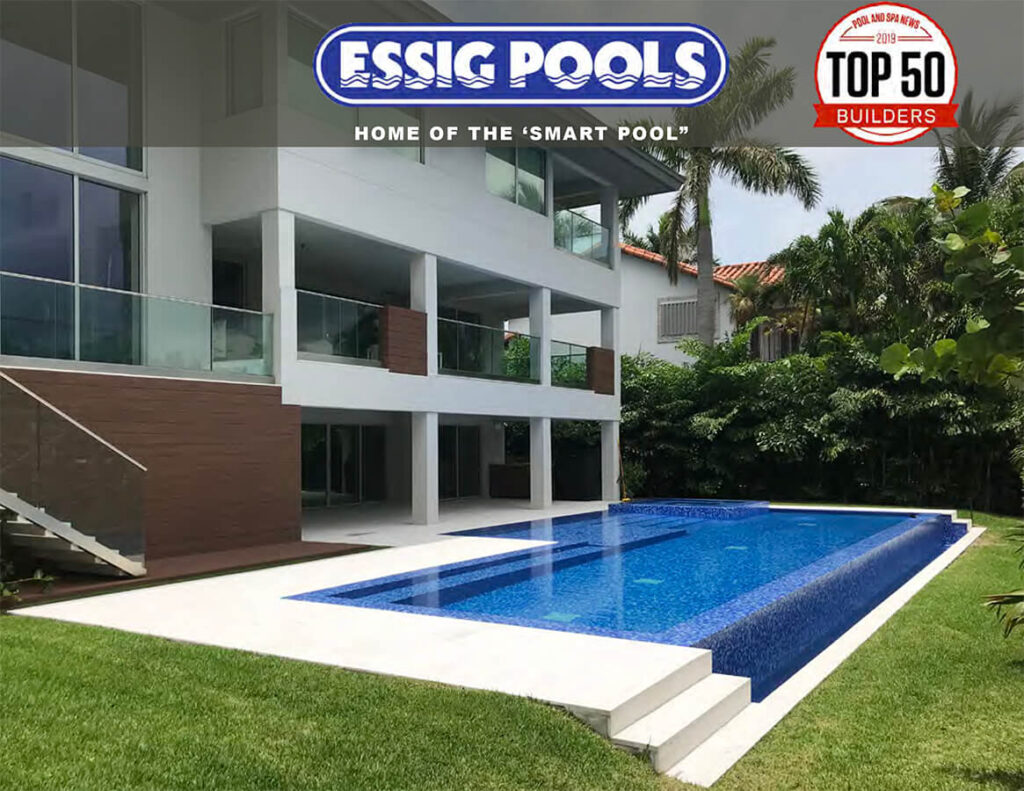 Want to add some of these features and trends to your custom pool design? Wondering where to get quality products and who to trust with your pool construction? Reach out to Essig Pools, who have a team of experts ready and waiting to help you create the custom pool of your dreams, upgrading your existing pool to the latest industry standards. Schedule an assessment today to receive a free quote and begin to make your dreams a reality.