Inground swim spas in Florida can be used for aquatic fitness, family fun, and ultimate relaxation. An endless pool design can be custom-built for fitness enthusiasts or homeowners with limited space. The design options are practically limitless for those who just want to relax in a more traditional hot tub-style spa.
This post will cover excellent choices for inground swim spas and in addition, we'll uncover ten more of the hottest design trends for inground spas that put the power of hydrotherapy in the privacy and comfort of your own backyard.
Inground Swimming Spas for Fitness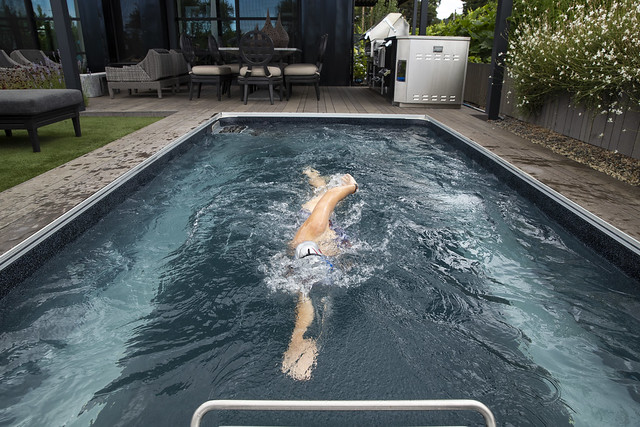 A swim spa makes perfect sense for those who want to enjoy the benefits of swimming but don't want to worry about maintaining a full-size pool. Swim spas use two types of current systems to generate resistance for swimming:
Propulsion systems

? use propellers to create a wide, strong current

Jetted propulsion

? use powerful jet pumps to force water through 2 or more swim jets
Jetted swim spas are adequate for general aquatic fitness but don't produce a wide enough, strong enough current for good swimming. While swim spas with propulsion systems are better for swimming, they also require a higher investment to repair and maintain.
Fastlane Pro Swim Machines
Transition a long, oversized inground spa or stand-alone spa into a swim spa with a Fastlane Pro Swim Machine. Fastlane machines use propellers to create a turbulent-free current that's wider than a person's body and deeper than their swim stroke. The technology is comparable to the propulsion systems used in H2X Fitness Swim Spa models.
The biggest advantage of a Fastlane machine is that it can be used to modify an existing pool or spa. However, it must be:
24 inches away from adjacent walls

12 feet from an opposing wall

Installed in water that is 39 inches deep (3 feet, 3 inches)
Don't have the space or desire to maintain a full-size swimming pool? Work with an experienced pool builder to install a custom endless pool swim spa!
4 Design Options for Inground Spas
With an elevated inground spa design, spa spillways serve as fantastic water features. Water in motion is a delight for the senses ? it's entrancing to watch, soothing to hear, and refreshing to touch.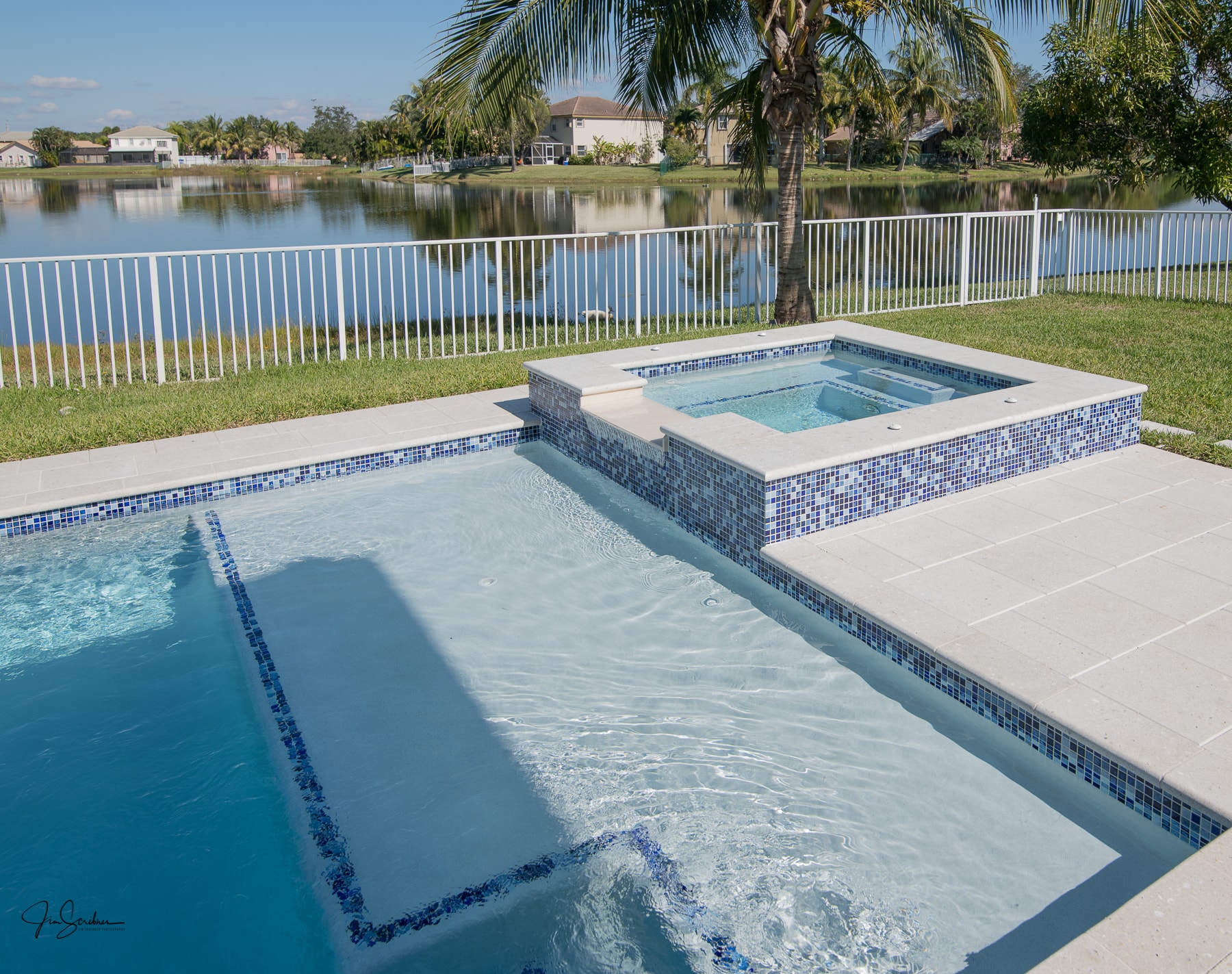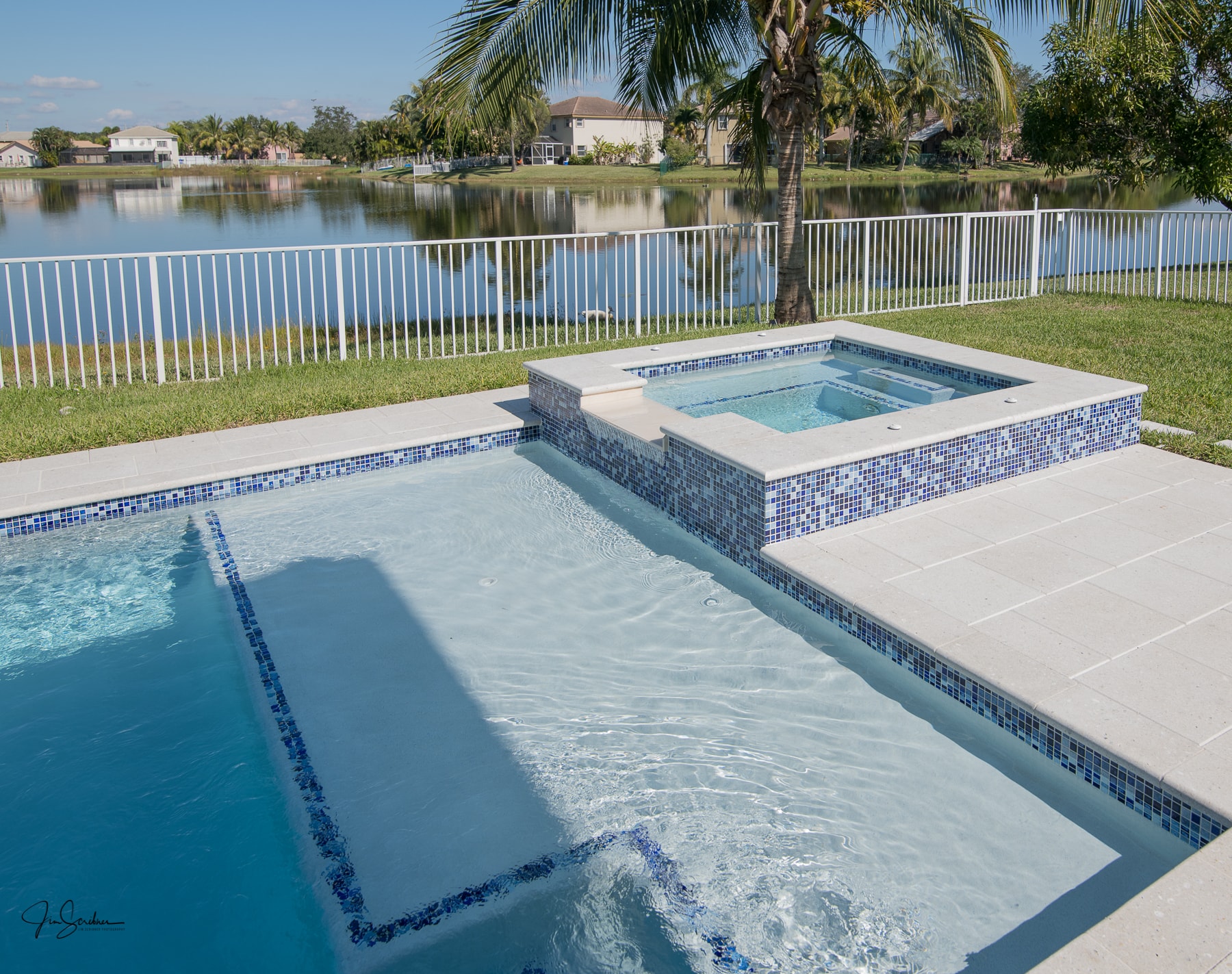 Single Channel Spillway

? A notched opening on one side of the spa allows water to spill out into the pool, creating the look and sound of a waterfall.

Weeping Spas

? The weeping spa look is created by organizing the spa's fa?ade into a graduated, step-stone design. The spa water spills down over several different levels on its way into the pool, creating a beautiful waterfall-like effect.

Multi-Channel Spillways

? Adding a series of notched openings in the dam wall multiplies the effect of the water feature. It creates a unique look on the extended length of oversized inground swimming spas.

Rimflow Spas

? This upscale design feature incorporates the entire rim of an elevated inground spa, allowing water to flow freely over the whole perimeter of the spa.

Entry Level Spa

? Placing an inground spa at the entry level of a swimming pool creates a dramatic focal point. A single-channel spillway provides additional visual interest.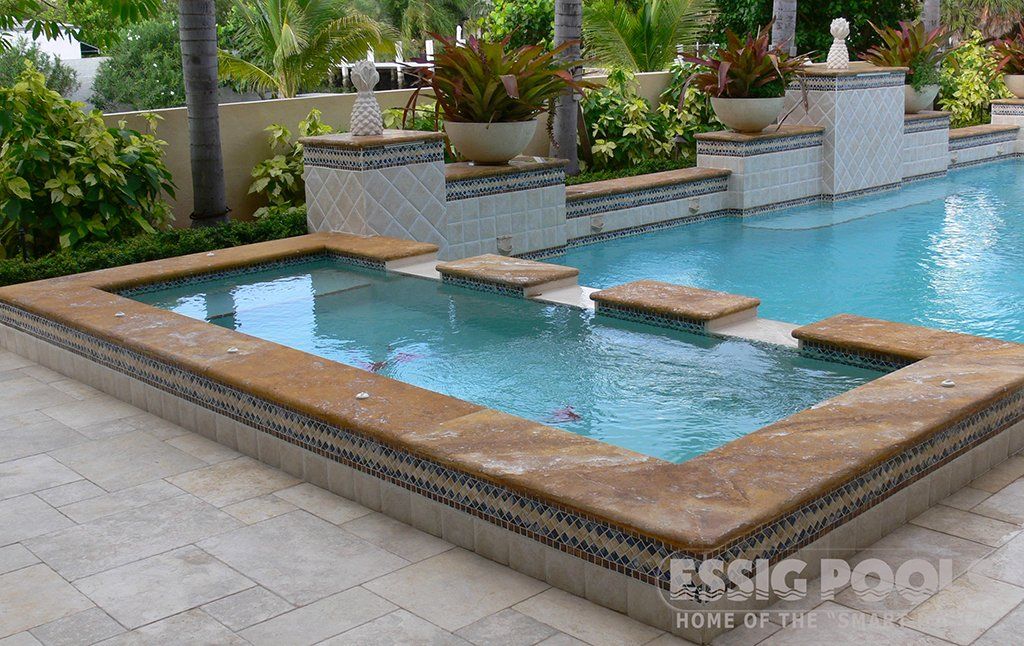 3 Additional Water Features and Lighting Elements

Transform an ordinary inground spa into an aquatic art form ? a hot design trend for both residential and public pools.
Laminars with LEDs

? Laminars contain sophisticated motorized components installed in the outer decking of a pool or spa that shoot high arching, tubular streams of water back into the pool or spa. LEDs illuminate the tubular streams with colorful hues of pink, blue, or purple.

Bubbler Fountains

? A shallow trough installed behind the spa catches water from multi-channel spillways. Small jets installed on the surface of the channel create bubblers or gushers for added visual and sound appeal.?

Fire Pits

? Dial up the drama and give your spa the look and feel of being in a tropical island resort with two fire pits.? Enhance the ambiance when enjoying your spa at night with this primal outdoor lighting element.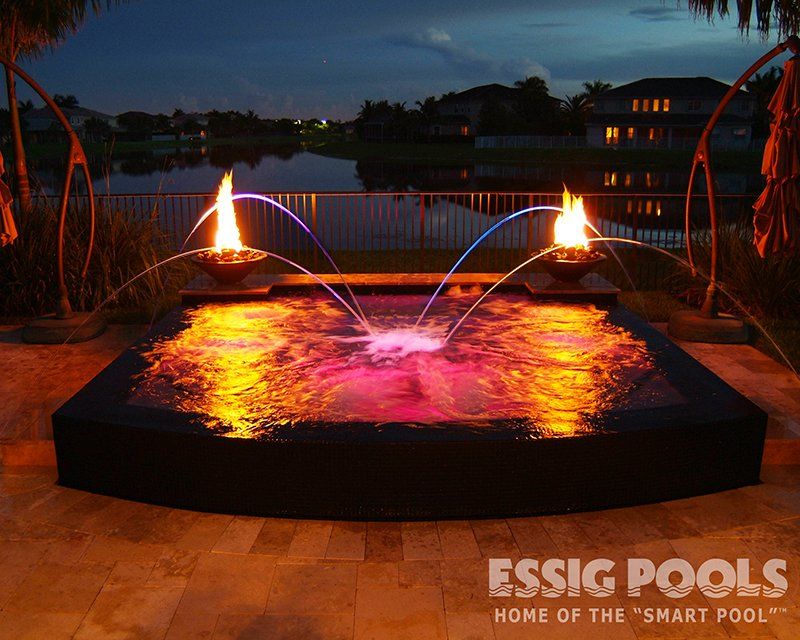 2 Ways to Incorporate Rock Features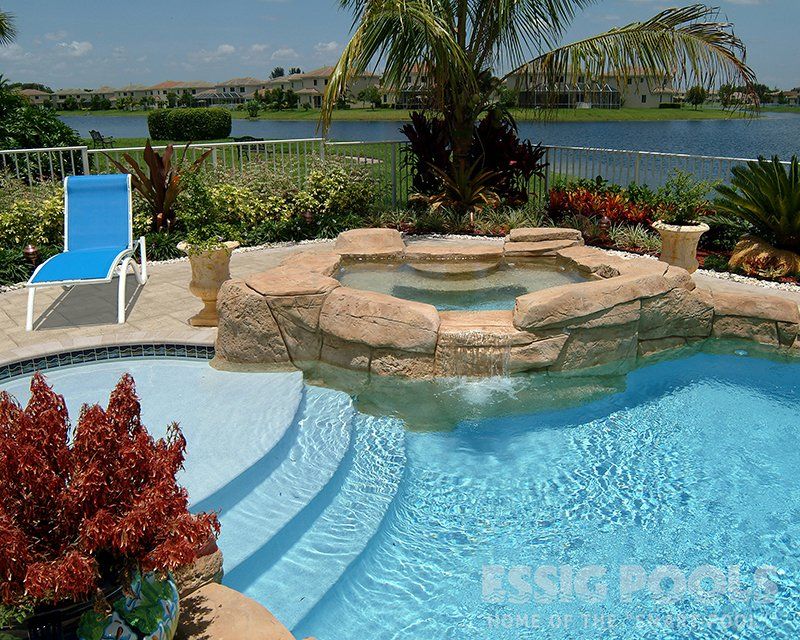 Let the architectural style of your home guide you in selecting rock features to enhance your inground spa design.
Natural Rock Waterfalls

? Add organic beauty to your spa with a natural rock waterfall. Made from cement poured over custom pre-built panels, these man-made boulders look like natural rocks with water gently cascading into the spa.

Stone Veneer Siding

? Made from straight-cut slabs of limestone, granite, or flagstone, these panels add rich texture to elevated inground spa walls.?
2 Ideas for Tile Coping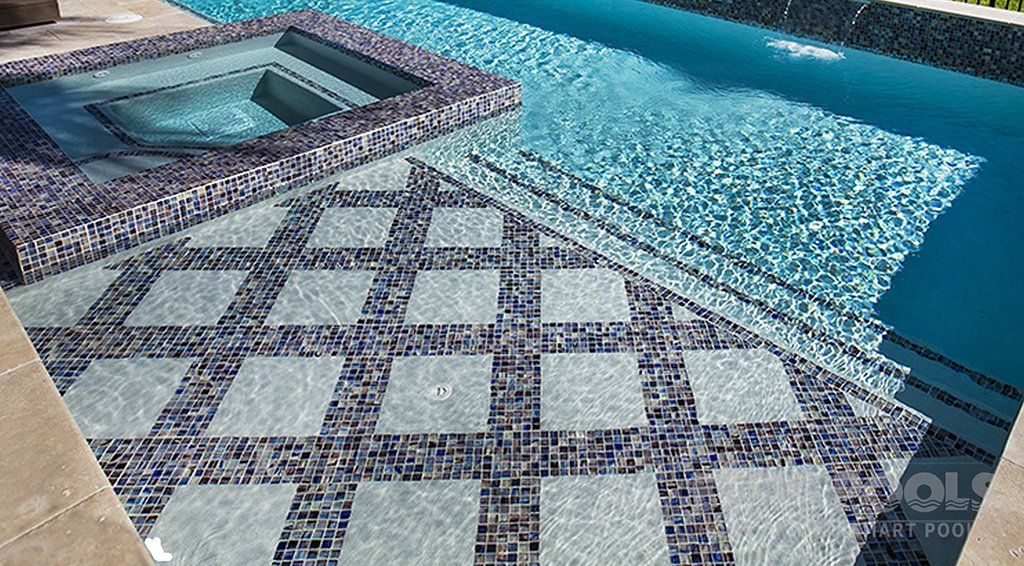 Swimmers can't go wrong with the shimmering finish on small glass tiles for a glamorous upgrade to swimming pool spas. Tile coping protects against cuts and slips when getting in and out of the swim spa, but it's a great way to add a nice aesthetic touch.
Dazzling Jewel-Toned Blue Tile

? Hues of aqua, turquoise, and sapphire suggest the feel of tranquil ocean water and make the coping on this spa a standout feature.

Sleek, Stylish Black Tile

? Modern architecture calls for inground spa coping that looks sheik and ultra-sophisticated.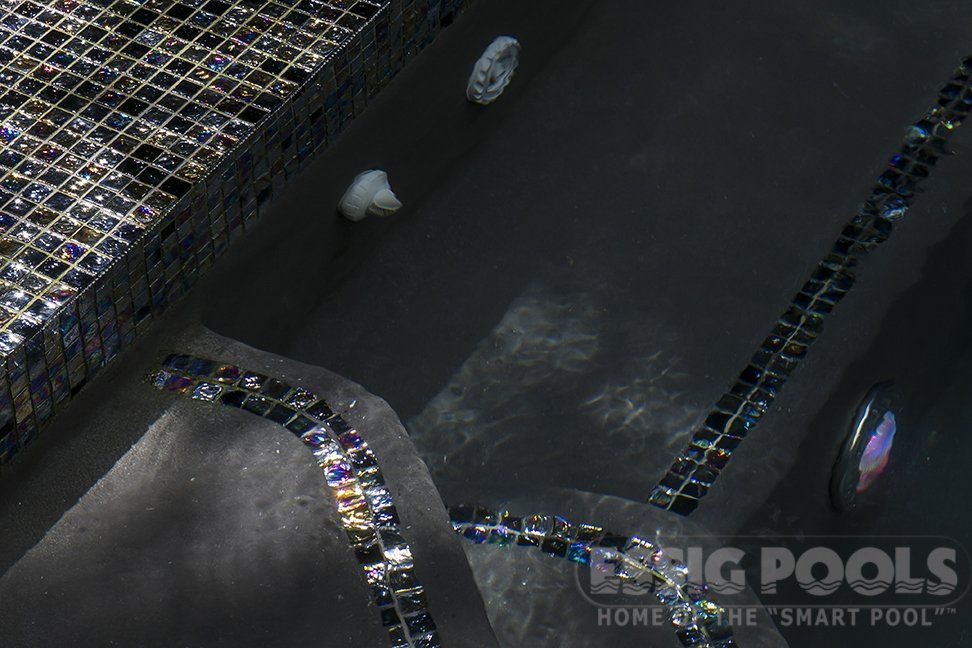 Where to Find Expert Help for Inground & Swim Spas in Florida
Deciding whether to invest in a swim spa or a traditional inground spa is a big decision. Lifestyle, budget, and available space all come into play. No matter the case, the hottest design trends offer family fun for those who enjoy swimming.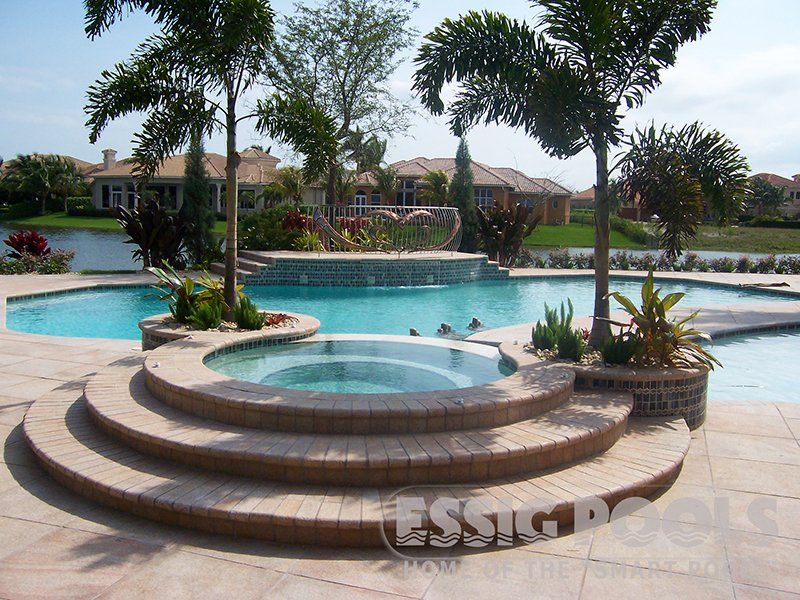 To ensure you get the best advice for your inground spa design, including the right filtration system to keep the water sparkling clean, turn to Essig Pools. We have been helping homeowners and commercial property owners with these exciting yet challenging decisions since 1981. Schedule an assessment and receive a free quote on your dream swim spa.