Time and weather will eventually wear out surfaces and plumbing features of any pool. A pool renovation will bring it back to life and up to code with updated safety features.
This post will cover the benefits of renovating existing pools, what to consider before you start, and new design options for pool renovation that can transform your outdoor living space.
6 Benefits of Renovating Existing Pools
The benefits of renovating an existing pool include:
Maintenance of pool equipment

? Repairing or replacing old pumps, filters, and pipes can help keep the pool cleaner and running more efficiently.

Save energy

? By installing automatic control systems, chlorine generators, heat pumps, and variable speed pumps.

Attractive new surfaces

? Replace broken, cracked tiles with new waterline tiles, add natural stone to decking or mosaic designs, and aggregate interior finishes.

Enhanced aesthetics

? LED lighting and laminars provide stunning visual effects.

Updated Safely Features

? New fencing, rails, and ladders that comply with modern standards are necessary.

Exciting new design options

? Transform the dated look of a plain, ordinary pool into a lush garden oasis with waterfalls, hidden caves, and built-in tanning ledges.
2 Safety Ideas to Consider When Starting a Pool Renovation in Florida
Florida's warm, tropical climate makes pool remodeling services possible all year long. However, climate change is fueling stronger, more destructive hurricanes. This could pose a significant risk for a project still under construction.
Mitigate that risk by planning Florida pool renovations outside of the peak of hurricane season, which occurs from mid-August through late October. Renovate your pool in mid-winter, when you are least likely to entertain guests outdoors.
Commercial Pools
Since diving is prohibited in most of Florida's commercial pools that do not have deep diving bowls and supervised training, you may want to consider a more user-friendly depth in the pool's deep end.
Reducing the depth to 5 to 6 feet will also significantly reduce operating expenses in terms of chemicals and heating.
Pool Renovation Ideas & Design Options
Modernizing an outdated pool design is like giving your backyard space a facelift. These pool remodeling ideas expand your living space with a welcoming fusion of lush, natural beauty.??
2 Ideas for Spa Additions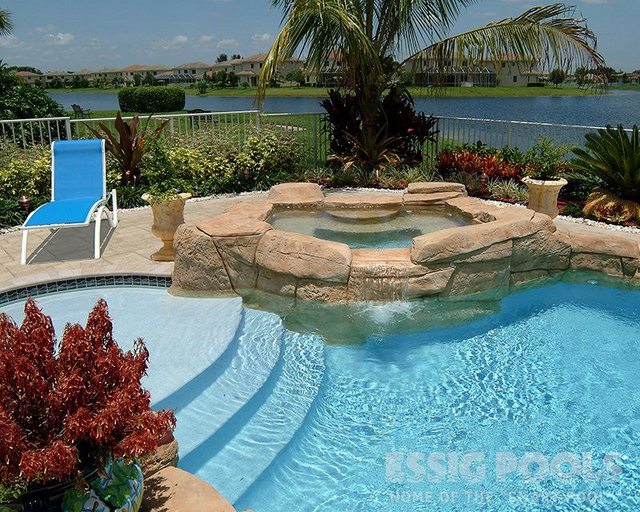 And romance and relaxation to your new outdoor living space with a custom-built in-ground spa. Enjoy the therapeutic benefits of soaking sore muscles and joints in the warm, steamy water of a hot tub.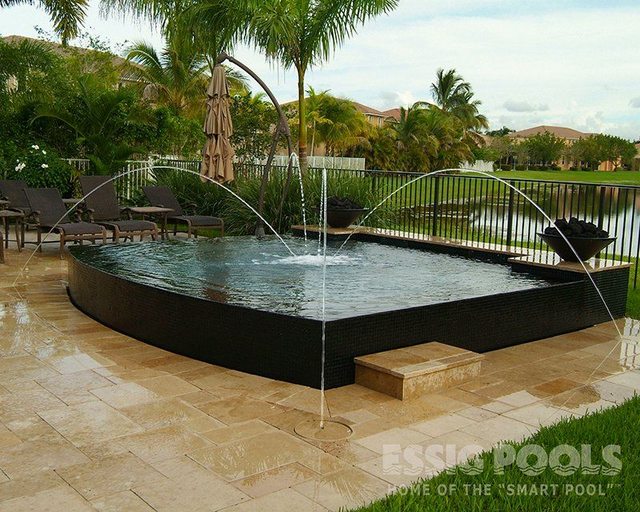 Spas built in conjunction with the pool can also serve as water features, with the tranquil sound of a waterfall spilling into the pool. A stand-alone spa makes perfect sense for those who don't want to maintain a full-size swimming pool.
9 Water Features
Give your pool a stunning focal point by incorporating a water feature into your design.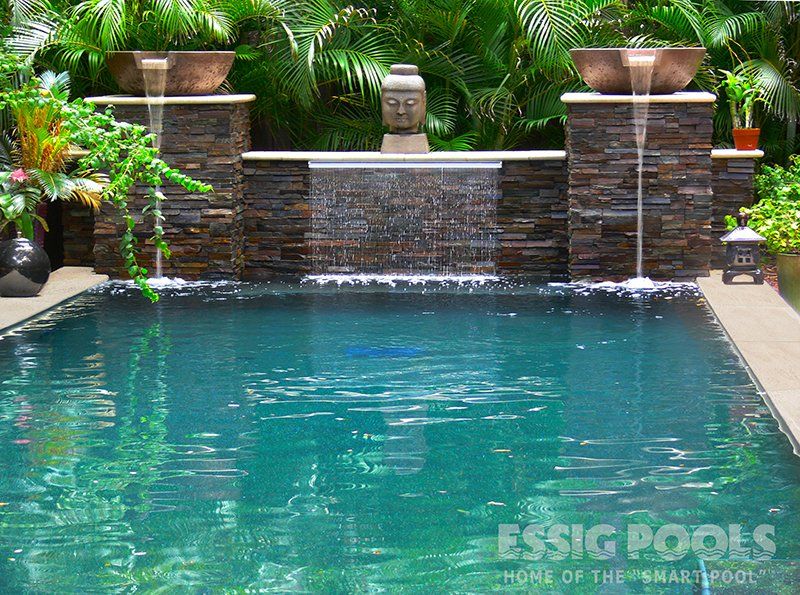 Water bowls

? Either round or square, they can be made from various materials such as colored concrete, stainless steel, or hammered copper. They are typically positioned on a raised column or wall, allowing water to cascade over the edge into the pool.

Rain curtains

? Enhanced with LED lighting, rain curtains are installed on 4 to 8 ft high structures. A thin, wide sheet of water rains down into the pool.
Cascades

? A sheet of water resembling glass descends from a raised bond beam or wall elevated at least 1 foot above the surface of the pool. Also known as sheer descents.

Scuppers

? Typically made from metal, these spouts channel water into the pool. Scuppers can be added to bond beams, elevated spas, landscape boxes, or even water bowls.

Bubbler fountains

? A popular feature added to tanning ledges, small jets installed on the surface shoot adjustable streams of water indicating a shallow depth.

Waterfalls

? Designed to complement the architectural style of your home, waterfalls may contain real or manufactured boulders or sleek horizontal spouts installed in decorative walls that produce walls of water flowing into the pool.

Sconces

? Resembling urns, vessels, or animal heads with a narrow stream of water shooting into the pool; these ornamental elements are commonly installed on pool walls.

Laminars

? Use sophisticated motorized components installed in the outer decking of the pool to produce a thick, tubular stream of water that arches highly over the pool while holding its shape. Colored LED lights to enhance the visual appeal.

Deck jets

? Like laminars, these jets produce a thin stream of arching water that shoots back into the pool.?
4 Ways to Include Rock Features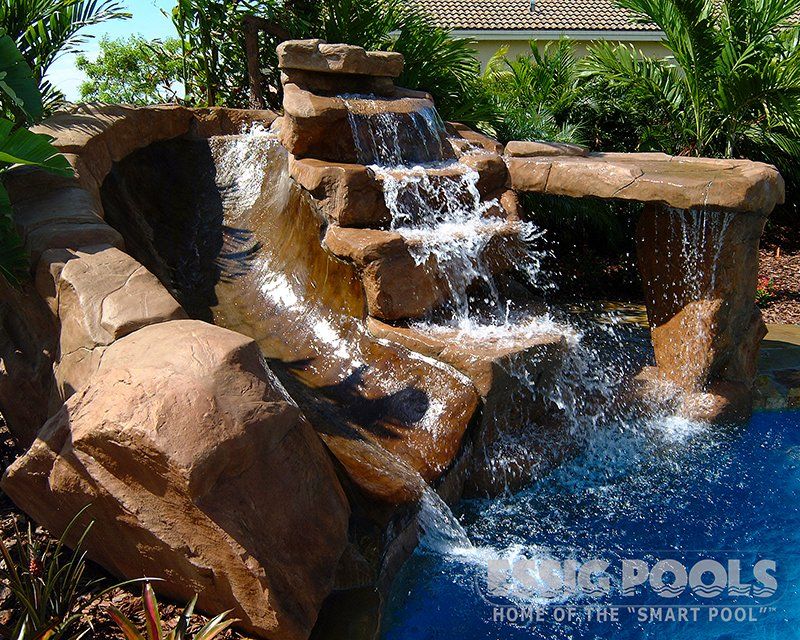 Natural stone adds a sophisticated look to any pool design ? inciting a sense of warmth and luxury that ordinary concrete can't compete with.
Columns and walls

? Thinly cut stone slabs of granite, flagstone, or limestone add a beautiful finish to elevated walls and columns, serving as a pool's focal point in modern architectural settings.

Waterfalls

? Stacked boulders in varying sizes make gorgeous waterfalls that look as if they were imported straight out of a South American rainforest.

Custom features

? Natural rock features can also be constructed from concrete poured over custom-built frames made to resemble:

Slides carved out of rock or large, hollowed-out log flumes ranging from 10 to 30 feet

Picturesque grottoes, which are caves hidden behind waterfalls

Swim-up bars and secret tunnels
Decks

? Flagstone, quartzite, or granite tiles added to coping or the entire pool deck provide visual interest with pattern and warm earth tone hues ? a stunning contrast against the cool, sparkling, jewel-tone shades of turquoise pool water.
3 Ideas for Benches, Swimouts, and Tanning Ledges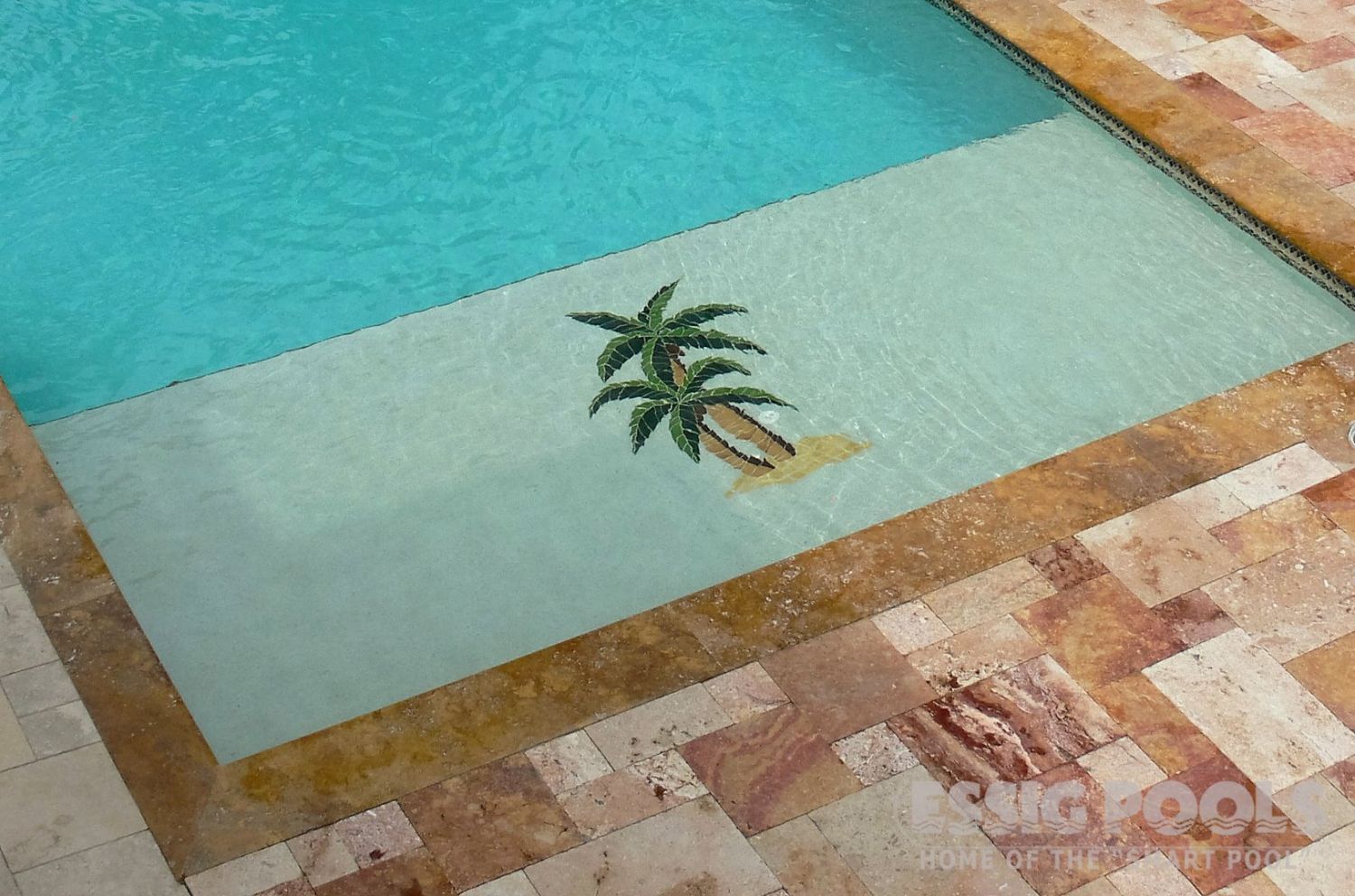 Speaking of cool, soothing water that beckons to nearby bathers, make the pool a much more inviting place to hang out by adding features such as built-in benches, swimouts, and tanning ledges.
Imagine breaking out a waterproof board game with friends and family seated around a circular bench surrounding a built-in tile-topped table.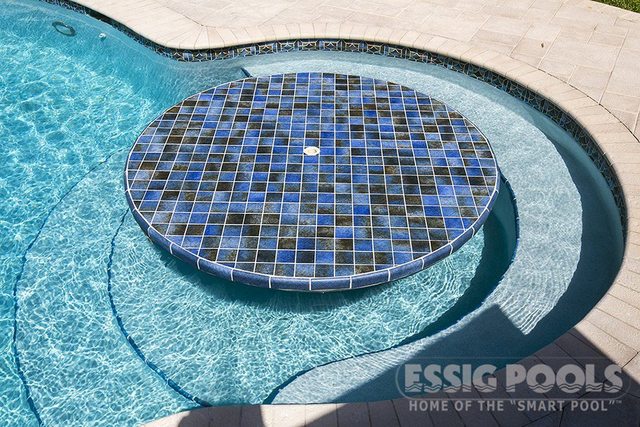 Stay cool while enjoying cocktails with friends by lounging in shallow water on a tiered swimout ledge. Swimouts make your pool user-friendly, so guests don't need to climb out over the edge. Luxury pools make life's ordinary activities feel refreshing and fun.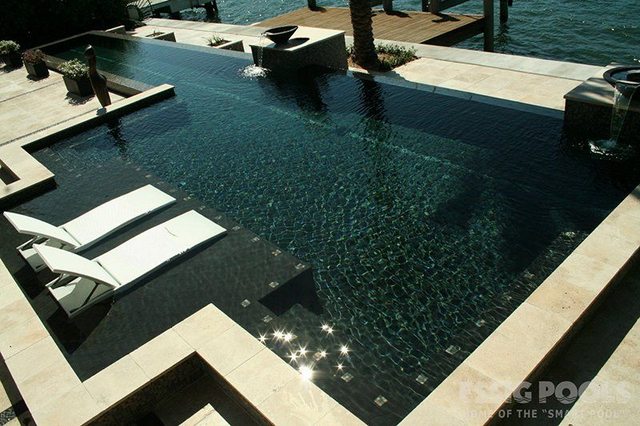 Give your pool a beach-like feel with your favorite lounge chair perched on a tanning ledge. Relax to the soothing sound of bubbler fountains or cascading waterfalls as you bathe in the warm Florida sunshine.
3 Examples for Tile & Mosaic
Add a touch of artistry that makes your pool truly one-of-a-kind with a beautiful tile mosaic. Dazzling tiles forming geometric patterns create a feast for the eyes and an unforgettable look to residential swimming pools.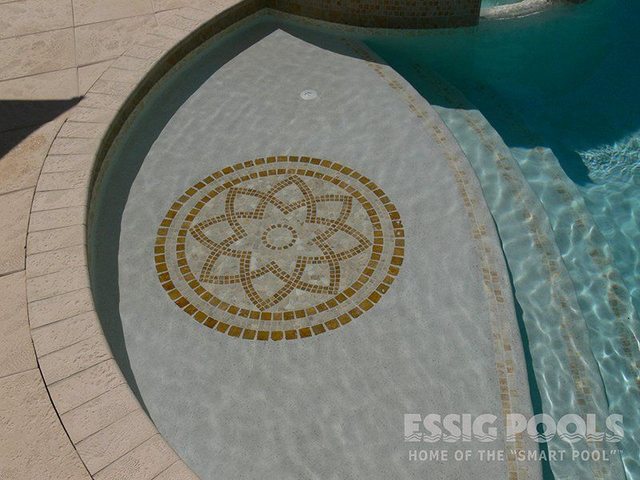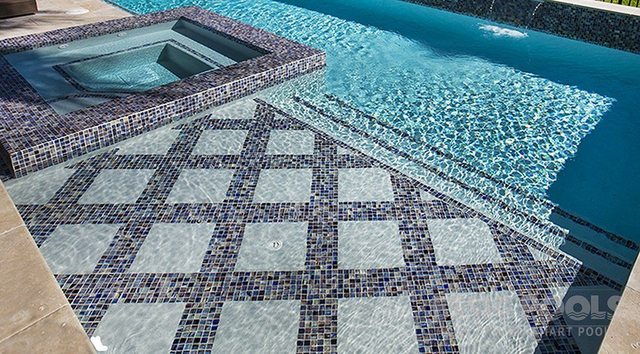 Shimmering, iridescent finishes on border tiles catch the eye and help tie in a coordinated feel between the pool and spa. Essig offers various options to enhance any pool remodel aesthetics.
One Stunning Option for Refinishing / Resurfacing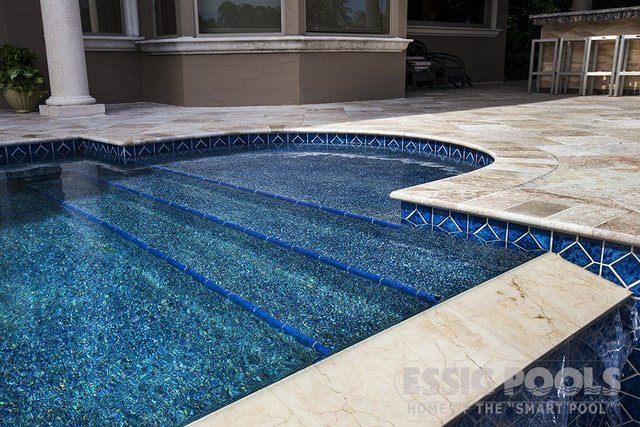 Aggregate finishes are a new generation of interior surface materials for pools that have far surpassed plaster in terms of durable beauty.
Transform a dated plaster surface by refinishing your pool's interior with a cement-based mix of stones, glass, quartz, pebbles, or 1-inch tiles that will bring a rich, sophisticated feel to your pool area.
The Smart Pool by Essig Pools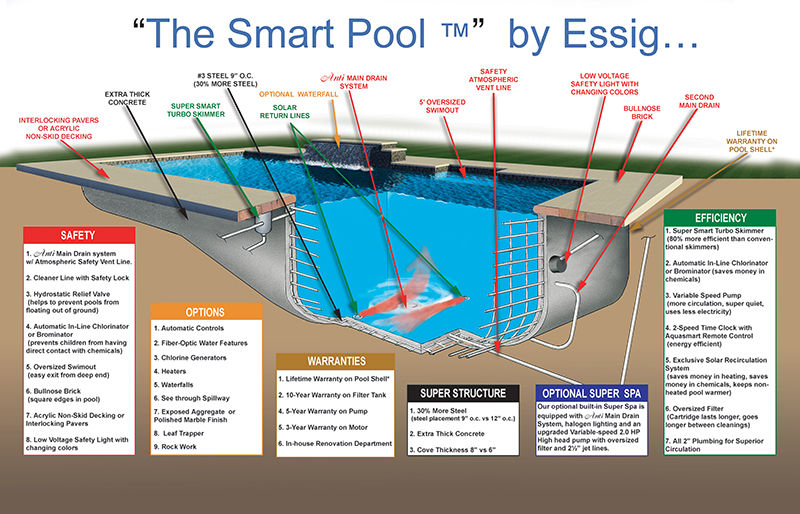 Fully embrace the idea of superior products for your pool remodeling services by working with Essig Pools on "The Smart Pool?" design. The Smart Pool? is a high-quality swimming pool that has 30% more steel and 50% thicker walls than Florida building codes require. Other custom features can be included with a Smart Pool?, such as a vanishing edge and fire pits.
Your new Smart Pool? will also be built with Shotcrete instead of Gunite, making it stronger and harder than average concrete pools. Built to last a lifetime, our pools come with long warranties.
Energy saving
Smart Pools? are built with energy-saving features such as:
Energy-efficient 2-speed pumps

Energy-efficient heat pumps

Automated smart controllers

Smart solar returns

Efficient, oversized filters

Oversized plumbing

Low-voltage LED pool lighting
Timesaving
Save time cleaning and maintaining your Smart Pool? with features like:
Automatic inline chlorinator

Salt-based chlorine generator

Efficient turbo skimmer

Chemical buffering mineral system
Maintenance, Repairs, Warranty
With more than 36 years as pool designers, we're happy to provide expert advice on the maintenance or repair of many other pool services, including:
Safety vacuum release valves

Main drain retrofits

Repair of pumps, filters, heaters, and pool cleaners

Leak checks
Extended warranties back up our high-quality materials and equipment.
For information about our warranties or inquiries about the maintenance, operation, or warranty of your new Smart Pool?, call our Warranty Department at (305) 949-0000 or email us at warranty@essigpools.com.
Budget, Size Constraints, & Permitting
It's important to determine an accurate budget before work starts on your pool renovation services and to stick with it.
The size of your existing pool and backyard space will affect the planning process for your pool renovation.
Each county in Florida has a list of safety requirements or environmental policies that must be met for swimming pool permits. Find out how to apply for a permit by visiting your county's website.
Choosing The Right Pool Renovation Services in South Florida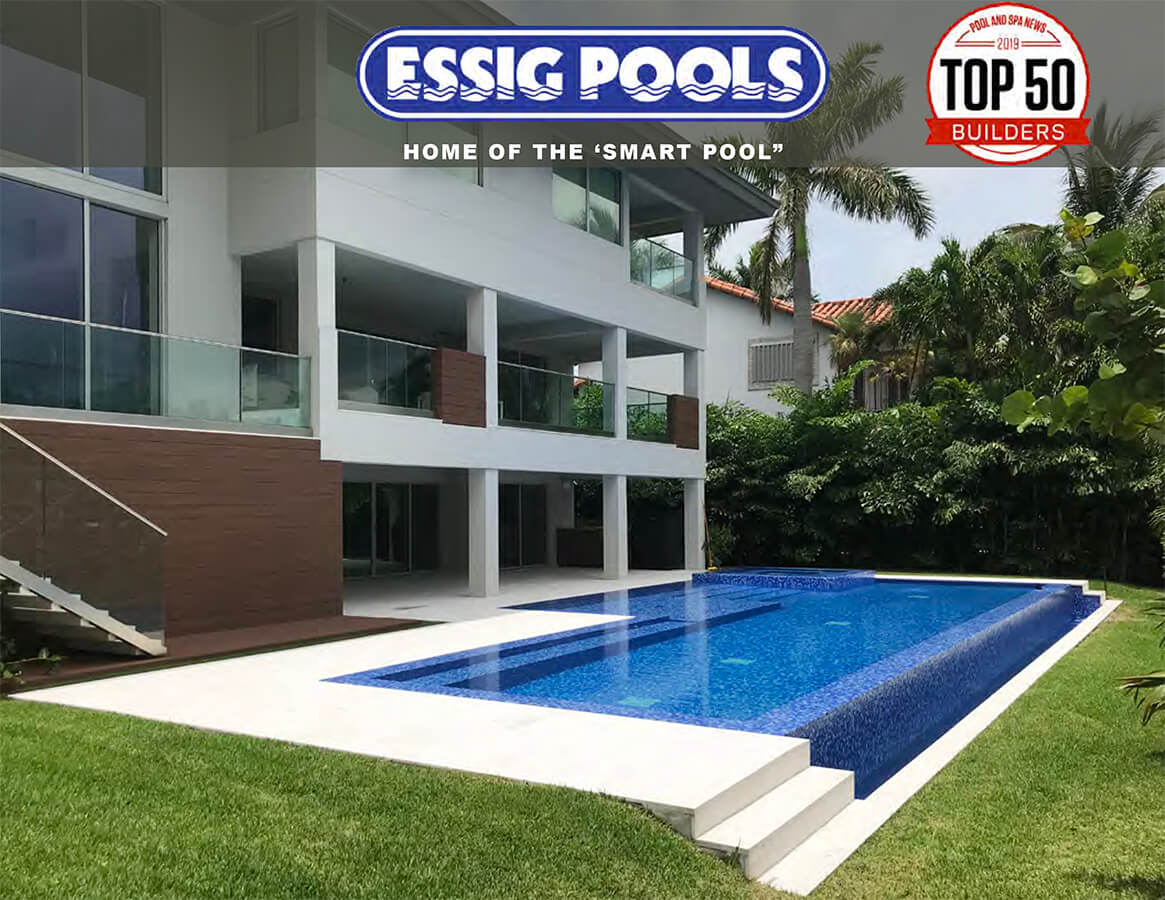 Work with expert pool builders for pool renovation in south Florida that spans over three decades. Schedule an assessment and receive a free quote.