When you want to lounge in the sun while enjoying the feel of the water around you, a pool tanning ledge provides the ideal solution. Demand for these ledges has been growing in recent years among pool owners, thanks to the many benefits they offer. From a small, simple tanning ledge for one or two people to wider tanning ledges that a whole family can fit on, you'll find many options to choose from. 
Whether you have an existing pool or plan on getting a new pool constructed, a tanning ledge could be a great feature to include. Consider the following benefits and styles of tanning ledges in pools.
What Are Tanning Ledges and Why They've Become So Popular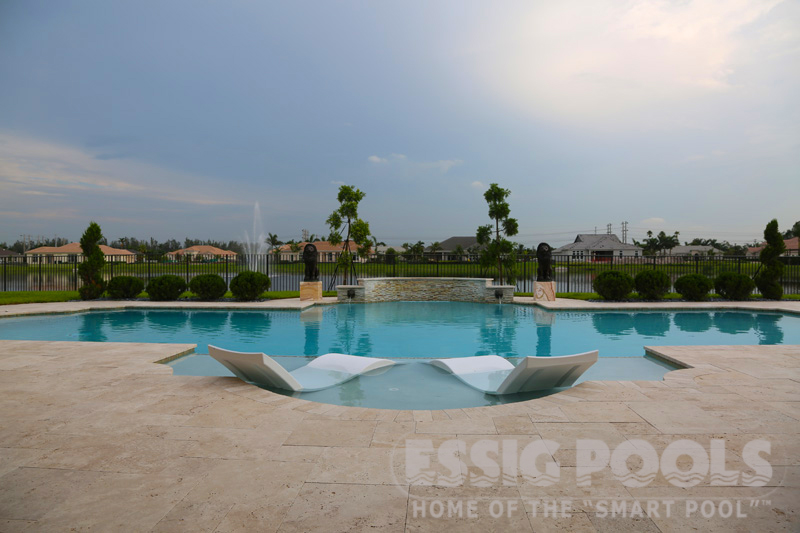 Tanning ledges in pools offer a convenient way to soak up the sun without actually having to leave the water. Instead of baking in the sun's heat on your deck, you can stay cool and comfortable on a tanning ledge. These ledges provide an area that's big enough for you to sit or lie down and work on your tan. 
Tanning ledges are usually around 9 inches deep or a little deeper, depending on each pool owner's preferences. This ledge, also known as a Baja shelf or tanning shelf, isn't an area for swimming. Instead, you can sit on a chair while reading a book or float in shallow water while taking in the sun's rays. Keep in mind that despite the name, a tanning ledge doesn't have to be used for this purpose. You can set up a chair or even a table with an umbrella to give you some shade. 
Why are pools with tanning ledges so popular? Having a tanning ledge in your pool means you don't have to get out of the water, grab a towel, and sit on a deck chair. You can wander over to your tanning shelf to relax after swimming around your pool. This shallow area can also be a good place for younger kids and dogs to get their feet or paws wet without being in deeper water. 
Tanning ledges can be set up in different ways to include water features or lights. You can have bubbles flowing into this area or have colorful lights installed. With a tanning ledge that's wide enough, you can have multiple places to lounge or set up outdoor furniture, such as a table and chairs, for having a snack and some drinks after swimming. 
Having a swimming pool with a tanning ledge is an option for homeowners with different types of pools. These ledges can be built for a concrete pool, fiberglass pool, or even an inground pool with a vinyl liner. Tanning ledge pool costs can vary, depending on the pool material and other factors, such as the size of your ledge and additional features. 
Our Top 5 Favorite Tanning Ledge Designs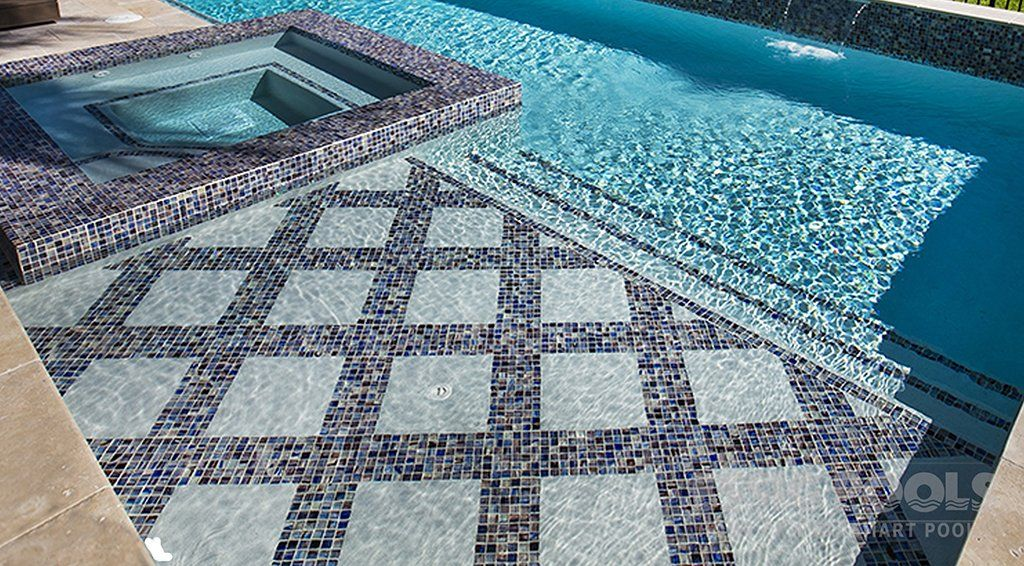 Adding a tanning ledge to your pool means you can enhance its design. Tanning ledge areas can have an eye-catching tile design that sets them apart from the rest of your pool. Alternatively, you might choose a design that complements your pool's swimming area. If the main part of your pool has a simple or plain design, having decorative tiles on the tanning ledge can make it easier to spot. This can add visual appeal while also creating a visible boundary between the tanning shelf and the deeper area of your pool, which can be helpful if you young kids will use the ledge. 

An infinity edge pool with a tanning ledge can provide stunning views of the water and your surrounding area. You can place chairs or seating on the ledge so that it faces the larger body of water near you. These views can make lounging on your tanning ledge in the sun even more calming and inspiring.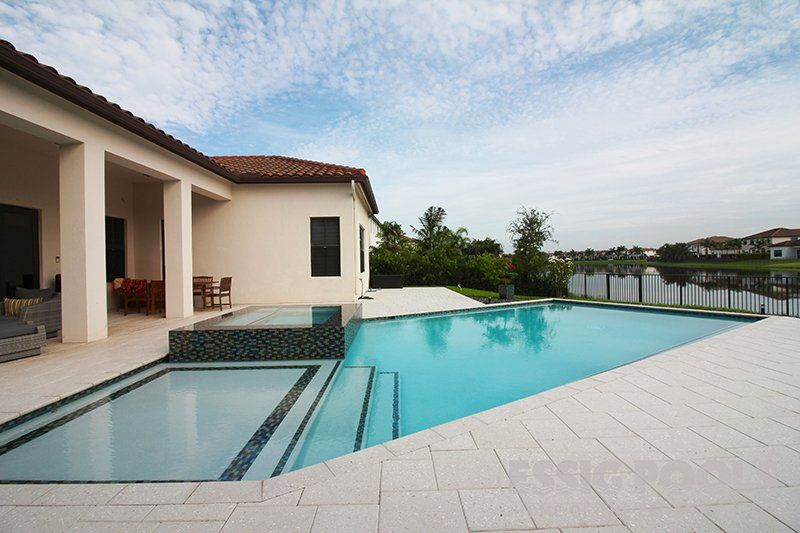 When you want to install a tanning shelf as a play area for kids or to hold an entire set of pool furniture, choose one with a wide design. While tanning ledges can have unusual shapes and designs, a streamlined, simple design can sometimes work better. A large, rectangular tanning ledge offers the ideal place for kids to play in the water without wandering off into deeper areas. This tanning ledge design is also suitable for a table and chairs or other furniture sets.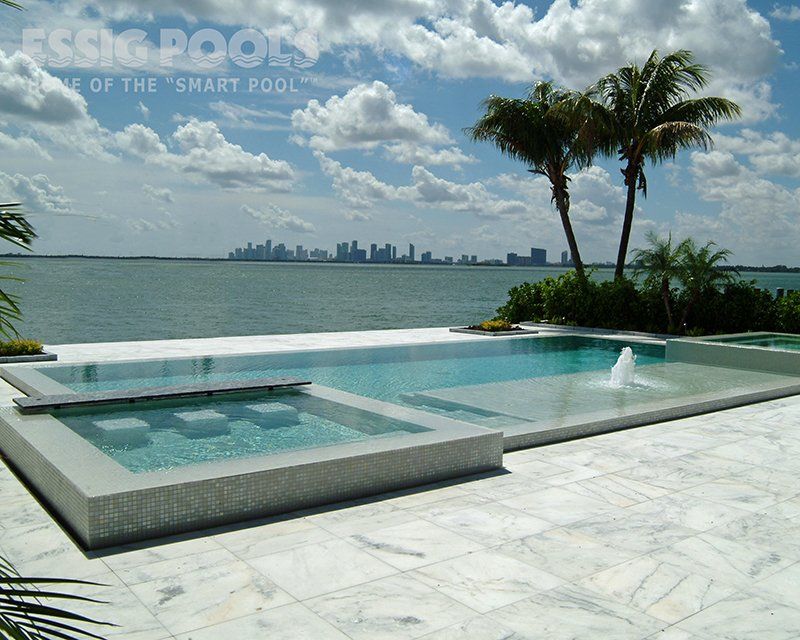 Tanning ledges with water features can add visual interest and a fun atmosphere. You can have a bubbling water feature placed in the middle of your tanning ledge and create seating areas on the sides for working on your tan, doing some reading, or just relaxing. Adding colorful lights or other features can make your tanning ledge stand out even more. 

When you don't want to take up a lot of swimming space for a tanning ledge, having one added to the side of your pool is a great option. You can have a tanning shelf built off of one edge or corner of your pool. This provides you with space to sit or float in shallow water without taking away from your swimming area. 
Can You Add Tanning Ledges to Existing Pools?
If a tanning ledge wasn't part of your original pool design, can you have one added? In most cases, installing a tanning ledge can be done during a pool remodel. Keep in mind that you might be more limited in terms of shape, size, design, and other options, depending on the size and shape of your current pool. Your pool contractors can either build a tanning ledge in your pool or add it onto the edge of your pool.
Work with Expert Pool Contractors 

If you're interested in adding a tanning ledge to your pool or if you're planning to have a new pool constructed, we can help. Contact Essig Pools in South Florida to set up an assessment and get a free quote.