Beautiful outdoor living spaces not only add value to your home they can also enhance the quality of your life. Transform an ordinary backyard pool into a relaxing, tropical retreat with jaw-dropping, luxury water features. 
What Are Pool Water Features?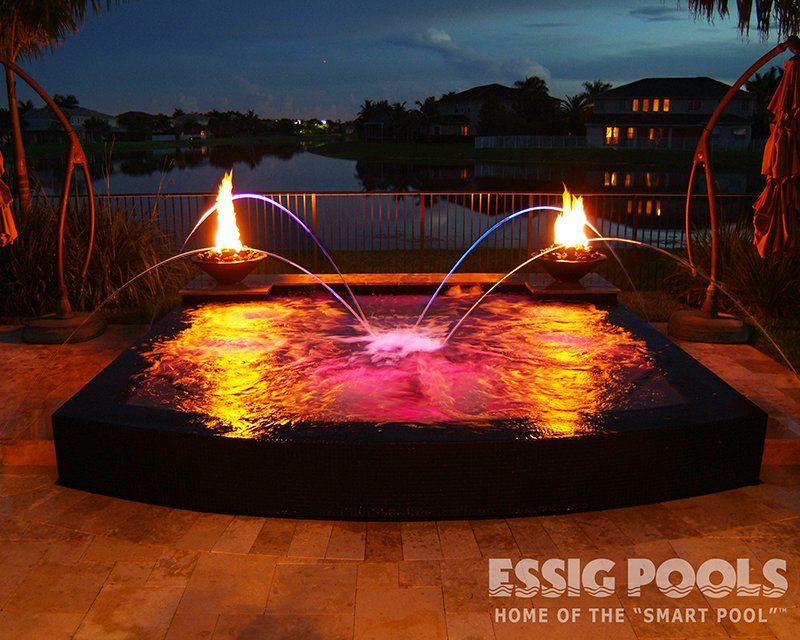 Water features serve as natural forms of art. The fluid energy of moving water provides a restful, calming sound to the mind and soul and brings an invigorating sense of renewal, freshness, and luxury to outdoor living spaces.
The shape and architectural style of your swimming pool should influence the type of water features added as aesthetic upgrades. Visualizing the possibilities and planning is half the fun!
Just be sure to work with a reputable and experienced pool builder who clearly understands your goals, personal taste, and budget.
Popular Residential Water Features for Pools
If you love the idea of a "stay-cation" where you can escape from the rest of the world, the transformative effects of these residential water features for pools can help you create a Zen-like private oasis.
Spa Additions 
Elevated, custom inground spas can feature a spillway — an opening in the dam wall where water flows out into the swimming pool below.  This enticing feature draws the eye and the ear with soothing sounds reminiscent of a bubbling brook or small waterfall. Enhanced spillway features include:
Weeping spas

– a step-stone or graduated build leading out of the spa and into the pool resembling the flat cascading rocks of a natural waterfall.

Rim flow spas

– the spa serves as a standout focal point where the entire rim acts as a spillway.
Infinity edge spas create a more subtle water feature effect that blurs the edge between the pool and spa. This look is popular with the geometric shapes of modern architecture. 
Swimming Pool Water Features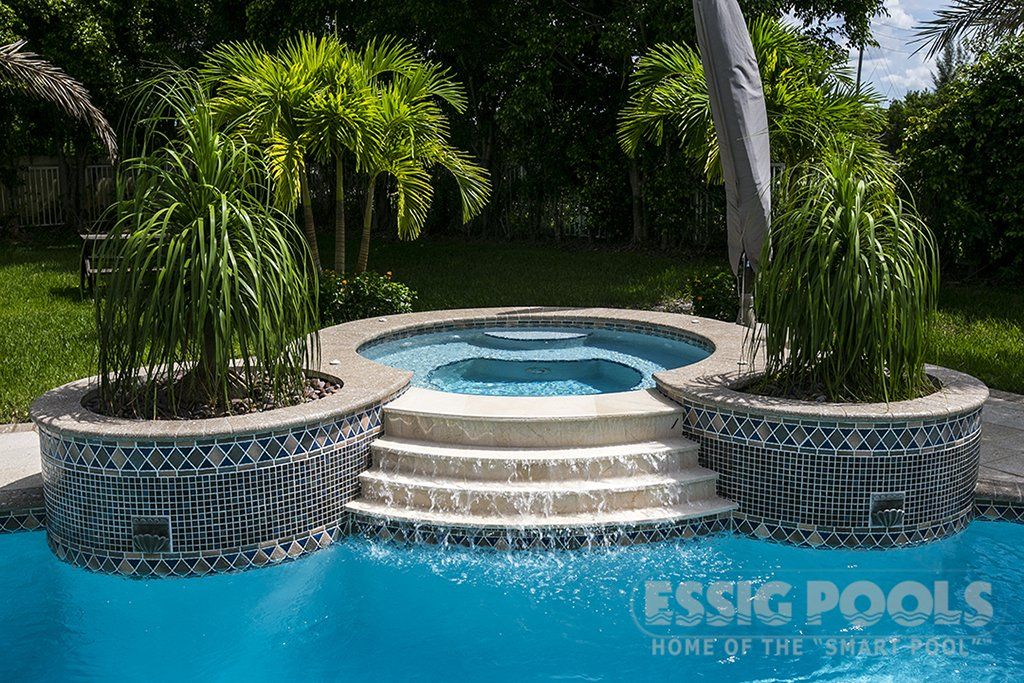 Familiarizing with the terms and different water features for pools will help with planning. It will also help you communicate clearly to your pool builder.
Bubbler fountains

– the rise in popularity of shallow tanning ledges in pools has also increased the demand for bubblers or gushers. Small jets installed on the pool's floor shoot adjustable streams of water that indicate a shallow depth.

Cascades

– also known as sheer descents, this elegant water feature looks like a sheet of glass descending from a raised bond beam or wall elevated at least 1 foot above the surface of the pool.

Deck jets

– installed in the outer decking of the pool, these jets produce a thin stream of arching water that shoots back into the pool.

Laminars

– although they look very similar to deck jets, laminars contain more sophisticated motorized components. They produce a thicker, more refined tubular stream of higher arching water that holds its shape. Colored LED lights can be added for additional flair.

Rain curtains

– typically installed on structures at least 4 to 8 feet in height, a thin, wide sheet of water rains down into the pool. Enhanced with LED lighting, rain curtains add a breathtaking sight to any pool.

Sconces

– ornamental elements installed in pool walls that resemble urns, vessels, or animals with a narrow stream of water shooting into the pool.

Scuppers

– a type of spout typically made from metal that channels water into the pool. They can be added to bond beams, elevated spas, landscape boxes, and occasionally water bowls.

Water bowls

– also called water woks or pans, water bowls come in a variety of materials and finishes such as colored concrete, stainless steel, and hammered copper. They can be round or square, positioned on a raised wall or column, with water cascading over the edge.

Waterfall Features

– can be built into a wide range of pool designs. Natural features may contain real or manufactured boulders, while sleek horizontal spouts installed in decorative walls produce walls of water.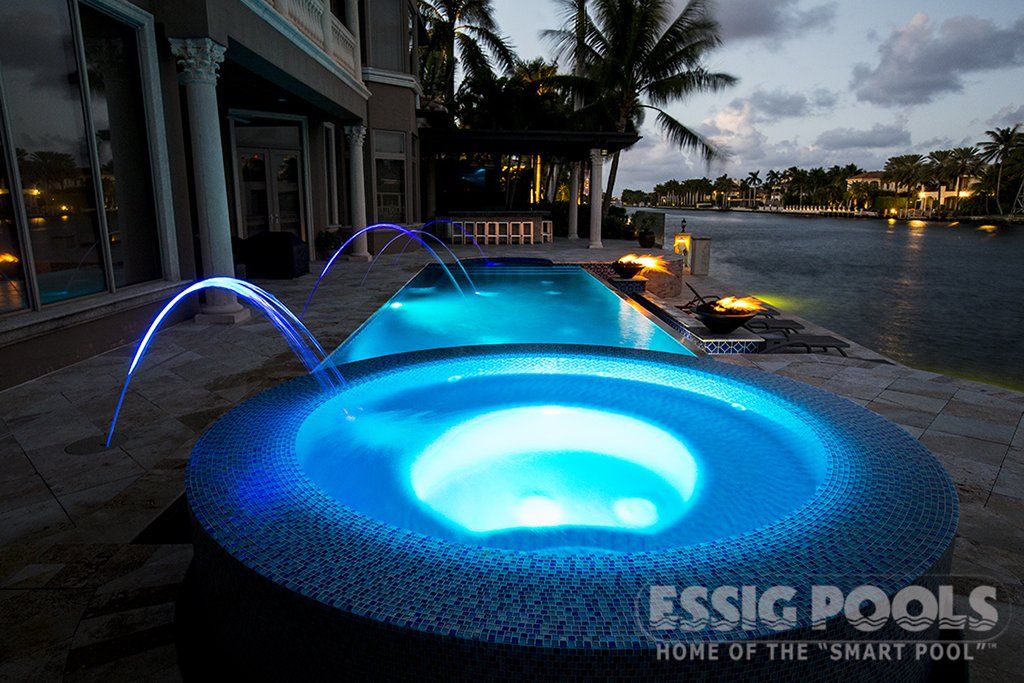 Rock Features
Natural rock waterfalls add a sense of organic beauty to tropical and lagoon-style pools.  A mix of boulders in varying sizes constructed into an existing slope can be considerably more cost-effective than starting from a flat surface.
When working with the geometric architecture and clean lines of modern homes, natural stone features should complement the style. Straight-cut stone slabs of granite, quartzite, flagstone, or limestone add a rich, sophisticated look to columns and elevated pool walls.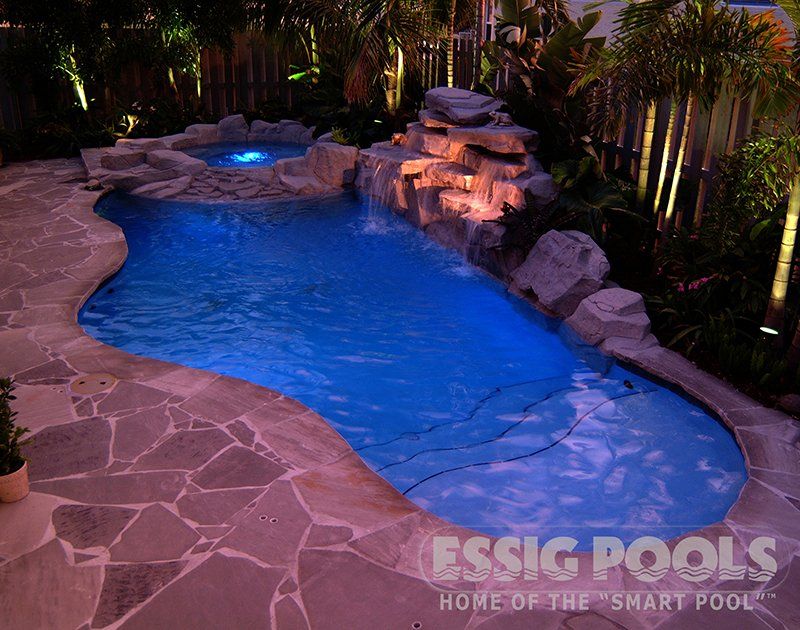 Natural rock features may also be constructed entirely from concrete poured over specially built panels. Options to transform your pool area include:
Rock slides from 10-foot log flumes to 30-foot thrill rides

Poolside grottos with hidden caves, swim tunnels, and secret bars

Peaceful waterfalls that delight guests with hidden spa retreats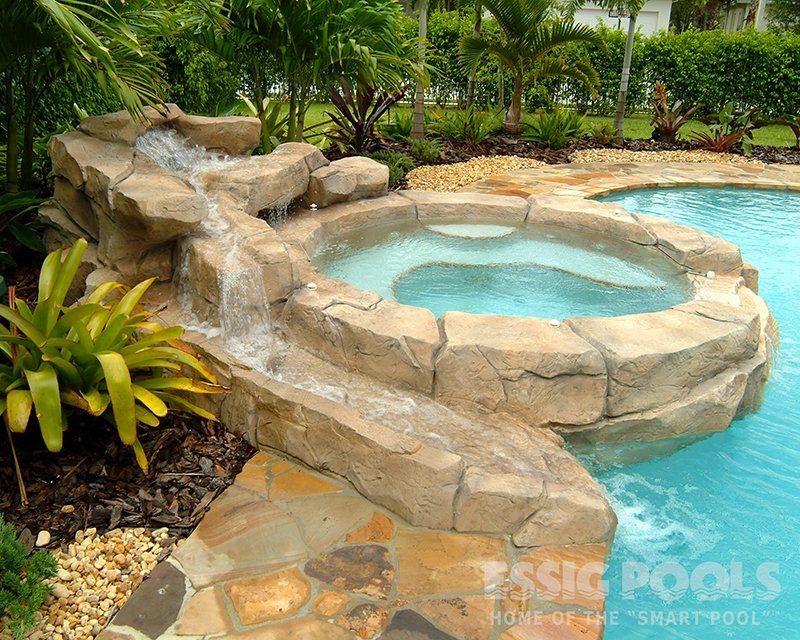 Benches, Swim Outs, Tanning Ledges
Deep-end swim outs are a combination of an upper seat and a lower bench that act as a safety feature. Swimmers can use them to enter and exit the pool or relax safely at the water's edge in the deep end.

Tanning ledges are popular features that can be added to existing pools while under renovation. The shelf sits inside the pool's perimeter, submerged 6 to 8 inches beneath the water.
Benches can also be retrofitted into an existing pool to create comfortable seating areas for people who might not want to be completely submerged. These upgrades are relatively inexpensive and can be installed in just a few days.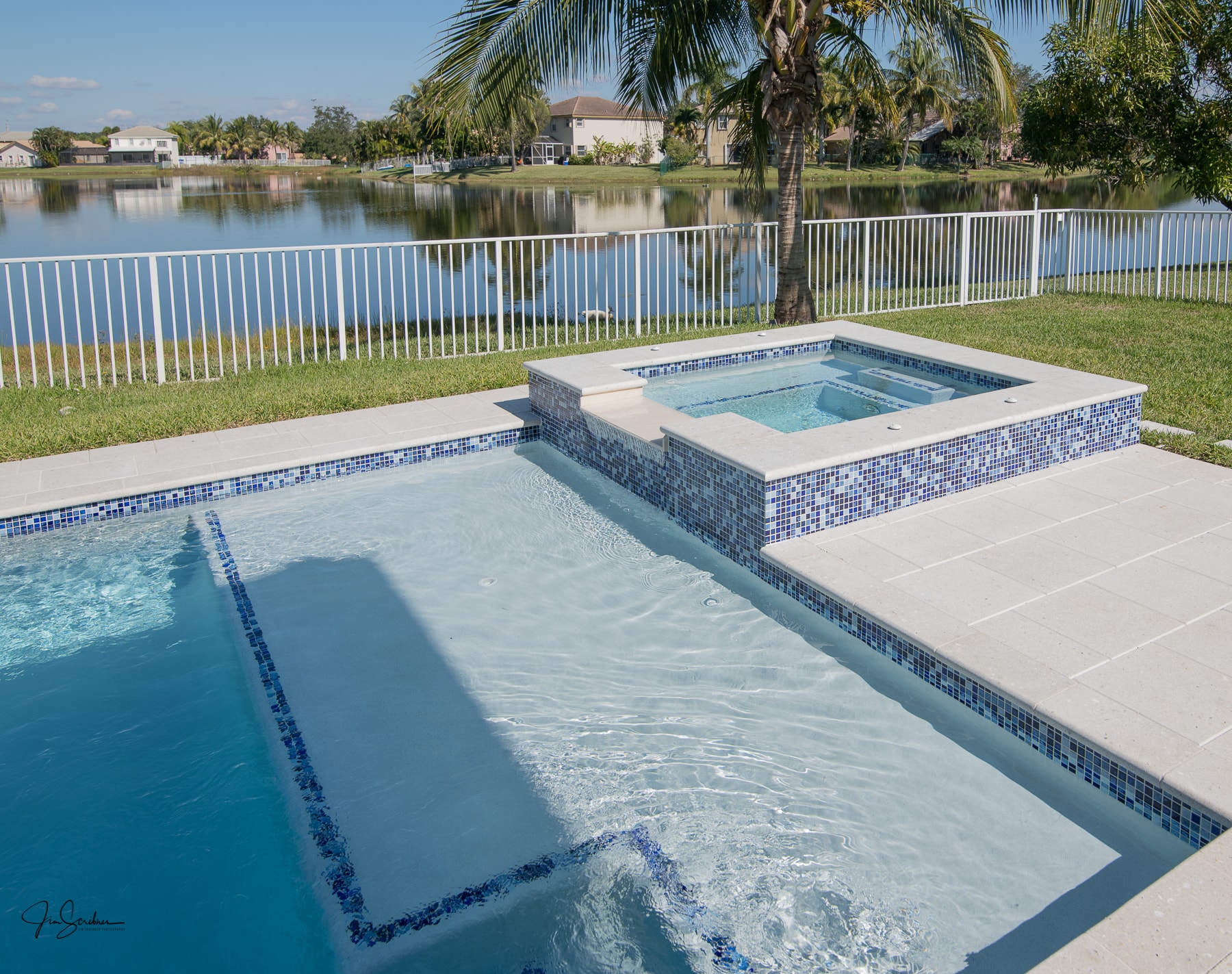 The Hottest Commercial Pool Water Features 
Commercial pool water features are a smart investment for hotel and apartment owners or community recreation centers looking to attract and entertain families.
Interactive Water Features for Kids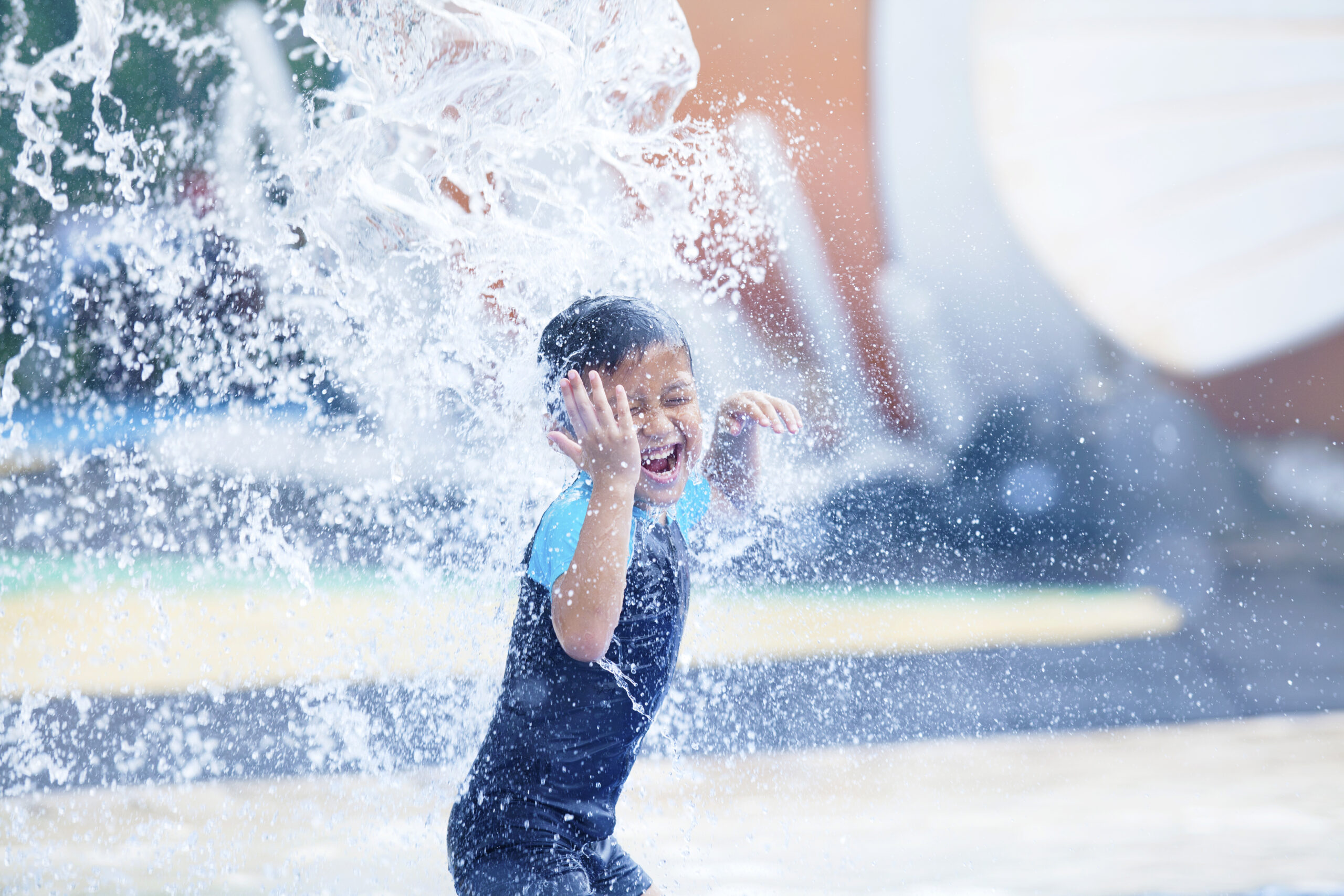 Interactive water features can keep kids entertained for hours while adults relax nearby with a good book or drink.
Water cannons

– when it's time for a friendly game of super soakers, no aquatic playground is complete without a few water cannons. 

Overhead mushroom umbrellas

– this fun fountain keeps kids cool while offering a spot of shade from the sun.

Splash pads

– include interactive fountains, sprays, and jets of water that soak kids without the danger of drowning. Follow CDC guidelines to

avoid spreading germs in recycled splash pad water.

Spilling overhead buckets

– you must be young at heart to enjoy a cool bucket of water that fills until gravity kicks in and dumps it over your head—or perhaps just excessively hot. 

Spritzers

– just a trendy term for interactive water fountains that come in a variety of forms on any splash pad.
Water Features Adding Visual Aesthetics & Soothing Sounds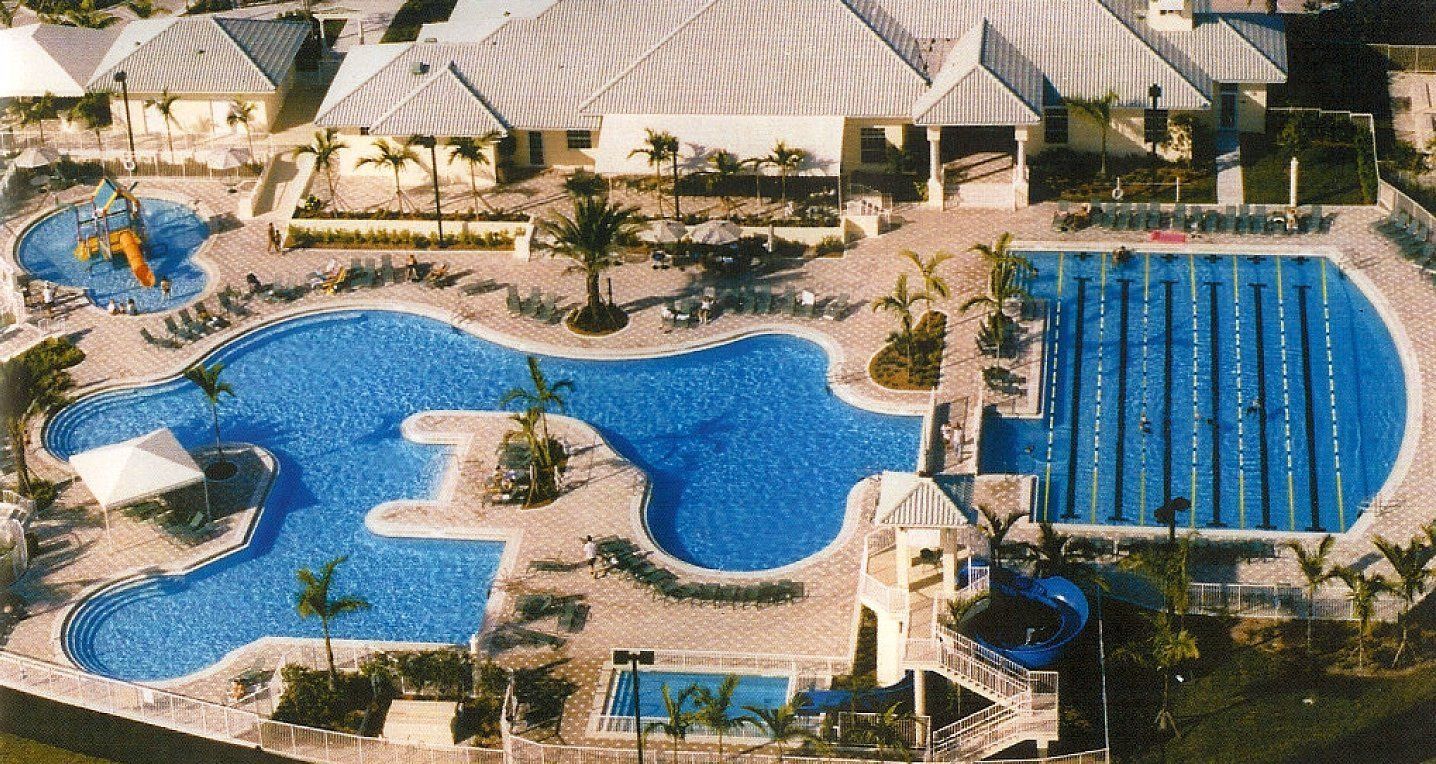 Outdoor living spaces can serve a dual purpose that focuses on the health and well-being of adults and kids. When the sun goes down and exhausted children are fast asleep, adult playtime can begin.
Rock features

– built-in speakers that look like the surrounding stone can be used to play the exotic songs of rainforest birds, native flutes or drums, or your current playlist of dance tunes.

Waterfalls

– strategically placed LED lights can help you illuminate cascading sheets of moving water in brilliant green, blue, pink, or purple hues.

Grottos and swim-up bars

– with ambient lighting from landscape or submersible LEDs and outdoor sound systems installed by professionals, your backyard will rival a high-end tropical resort.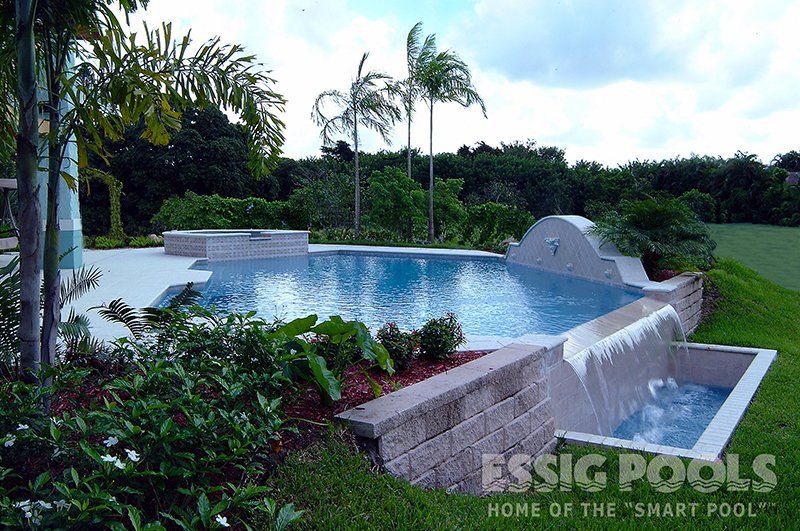 Add Custom Pool Water Features with Help from Essig Pools
Serving South Florida since 1981, Essig Pools has the experience and reputation you can count on for building luxurious and inviting outdoor living spaces. Whether water features for a residential pool or an interactive splash pad for a commercial property, visit Essig Pools today and get a free quote on your water feature upgrade.